It's July 1st. Although it doesn't technically divide the year in half (I don't think it does anyway...), it serves as a convenient date to plop down my 2nd annual midway through the year Music Awards. It's been a hell of a year for music so far (especially since I now have money to purchase it), so let's get to it:
ALBUMS OF THE YEAR
5. Fionn Regan - End of History -
You probably read my review (if not, navigate biotch!) so I won't go on about this. But it's certainly a beautiful acoustic album, a blend the best qualities of the likes of Elliott Smith, Damien Rice and Bob Dylan. It'll be a great disc to revisit in fall/winter.
Highlights:
Hey Rabbit, Black Water Child
4. Bright Eyes - Cassadaga -
Despite a few overwrought moments (I always cringe when I hear him sing "From the madness of the governments!" in "No One Would Riot For Less"), here's a gorgeous, meticulously layered and textured album that is a fine example of why Oberst is one of the best things going for songwriting today. And I'm so glad he's abandoned his eye-lined buttboy look for the creepy cult-leader look...sadly, it's an improvement.
Highlights:
Four Winds, Middleman
3. The Avett Brothers - Emotionalism -
What a great fucking disc from a great fucking band. As much as I loved
Four Thieves Gone,
this one is a step in the absolute right direction. Two of the best singers in Americana churn out 14 scant, rusty beauties that should thrill any folksy southerner with an penchant for the rock and roll.
Highlights:
Weight of Lies, Salina
2. The White Stripes - Icky Thump -
Rock and roll kept afloat by Meg's churning bass drum allowing Jack's searing vocals and guitar to weave one of the best straight rock records I've heard in a while. I love the ethereal movement that divides the album, comprised of the (mandolin or bouzoki?)-driven "Prickly Thorn, But Sweetly Worn" and capped by the Anglo-trance-folk finale, "St. Andrew (This Battle Is In the Air)".
Highlights: You Don't Know What Love Is (You Just Do As You're Told); Prickly Thorn, But Sweetly Worn
*
*This is not the US cover, but it's the one allmusic.com provides.


1. The National - Boxer -
Dark and gorgeous, The Nationals'
Boxer
is unequivocally tops for me this year. It's a classic nighttime album: Very subtle, textured by glints of moonlight rather than glaring sunshine. It's certainly one of the most atmospheric and moody albums I've heard in a while, and worthy of the top spot thus far.
Highlights:
Start A War, Ada
Honorable Mention:
Wilco,
Sky Blue Sky
; Modest Mouse,
We Were Dead...
; Andrew Bird,
Armchair Apocrypha
; Elliott Smith,
New Moon
Disappointment of the Year:
Arcade Fire - Neon Bible
- It's important to distinguish "disappointing" from "bad". Lucinda Williams? Just plain bad. Menomena? I didn't know shit about them, bought their record, and didn't like it. But it wasn't really disappointing because I had no expectations. But with the Arcade Fire, we had 3 years to absorb
Funeral
, one of the finest records I've heard in the past five years or so. And
Neon Bible
, unfortunately, just didn't blow me away. It was OK...but perhaps the layoff inflated my expectations to an insatiable degree. I think this will be an album I'll come to appreciate down the line. But for now,
Neon Bible
still leaves something to be desired as far as I'm concerned.
Dishonorable Mention:
BRMC,
Baby 81;
The Shins,

Wincing The Night Away
Best Live Experience: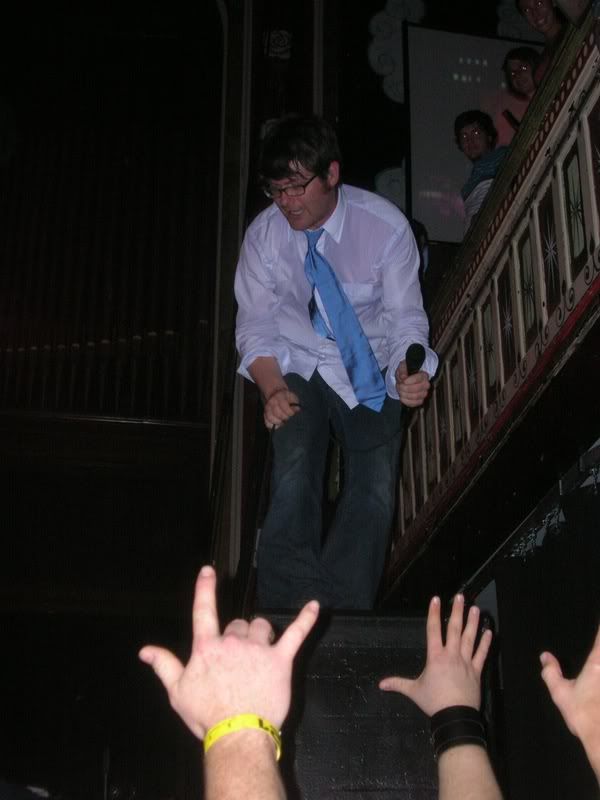 *
I took this photo. Use it and I keel you. Totally kidding...anyone can use it for whatever.


The Decemberists, Atlanta
This is kind of cheating, because it was October of 2006 that I saw 'em. But what with senior semester and all the rest, live shows (besides my own) have been few and far between. But my Decemberists' experience was one for the ages and certainly worthy of an award. As expected, they played one of the most satisfying live sets I've ever been privy to. But tack on getting to meet Colin and
dip Decemberist Lisa
(who'd made her way into the audience) during the last song of the night, it was an interactive concert experience like no other.
Honorable Mention:
Wilco, Charlotte
The New To George Award:
Drive-By Truckers
Why it took me so long to discover this band, I don't know. Everyone told me about them. Drew in particular. But I never did buy a record. Finally found
the Dirty South
used (for some reason) and...well, Jesus. Have since accrued their three strongest (so I hear) discs,
Southern Rock Opera, The Dirty South,
and
Decoration Day
. I love to see a band representing the South as they do; proud to be Southern and just as proud to shatter the stereotypes that have been ingrained by the likes of pop Nashville.
The "Most Likely To Crack The Top 3 Before 2006 is Over" Award:
Iron and Wine
and
Band of Horses
(two S.C. acts who gained popularity via the Pacific Northwest) both have announced fall releases, the former of which has already been leaked. Haven't heard it, will probably wait til the release. My darkhorse candidate is
Jason Isbell
, formerly of the Drive-By Truckers, who has a solo album coming out in a little over a week. I quickly gravitated towards his DBT songs, so I don't think it's a stretch to imagine I'll eat up his solo stuff.
Well, that does it. Lemme know what you think and certainly post your lists as you see fit.