A nice little find today...
After two days of hellish film-work, I wanted to do nothing less than purge my old room of...everything, actually. My boxed-up collegiate life, i.e. that which isn't currently furnishing, decorating or cluttering my apartment, is stored comfortably in the room where I spent my pizza-faced adolescence. But the hammer finally dropped, and the Captain's orders are for a complete and utter overhaul, leaving the room a blank canvas for he and moms to do what the might with it.
I was well into it, having sectioned everything into two piles (trash, Goodwill), when I came across a relic that I thought was long trashed. A print-at-home concert ticket, signed by every current member of Wilco aside from John Stirratt, who was a no-show when about 8 dedicated fans (myself included) managed to coax the members out for a brief meet-and-greet after the Charleston show in March of 06. But it wasn't 2 days later that I'd lost the damn ticket. I long blamed my mother, who I was sure had chucked the ticket, which, to the untrained eye, might have appeared to be little more than a scribbled piece of scrap paper. But, gahblesser, she'd stashed it in my room, albeit in a rather indiscriminate nook.
Anyhoo, here she is in all her glory: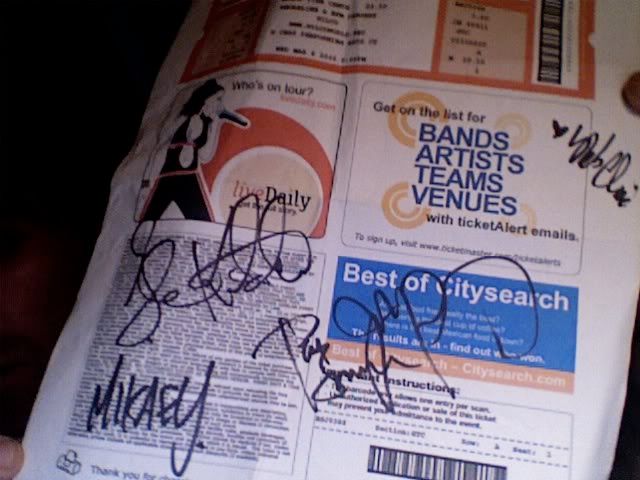 A bit of amateur
graphology
:
1. Tweedy - J is quite discernable; seems to have errantly begun last name with a "P".
2. Pat Sansone - Crisp, readable, worthy of a Spalding mitt
3. Glen Kotche - Ornate like drumming style; Hancockian.
4. Mikael Jorgensen - ALL CAPS; Last name abbreviated; must fight urge to add "Fox"
5. Nels Cline - What a gay.
Off to Wal-mart for an 8x11 frame!