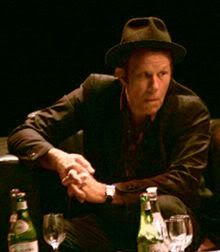 File this under "fuck" and "yes": Tom Waits'
Glitter and Doom
tour will be chronicled on an upcoming live disc. It'll feature tracks recorded during the aforementioned jaunt 'round the country, the final stop I was lucky enough to
witness in glorious 5th-row fashion
.
That show is widely available, specifically through npr.org, and I highly recommend giving it a listen.
Details are sparse right now, so no date, tracklist, or cover art. The release will be Waits' first of any kind since the immaculate
Orphans
dropped in 2006. Here's to hoping there's some more original stuff on the way. Or, for that matter, a big ol' tour.