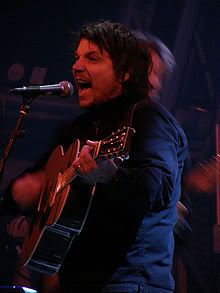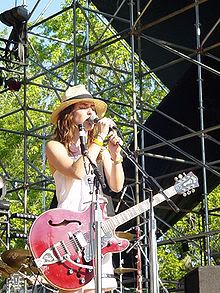 "You and I" -- Wilco and Feist from
Wilco (the Album)
Bad grammar aside, this song dismissed every ounce of potential inherent in a collaboration between one of the generation's great songwriters (Tweedy) and great voices (Feist). The song is, as far as I know, Tweedy's first attempt at singing with a female vocalist on record, and it comes off as a failed opportunity to create something special. It's a novelty more than anything, the subject of a brief paragraph in either party's biography that may contain the word "forgettable". The song's shortfall is sealed by the odd decision for Tweedy--known for his ability to carry emotion in a lower register--to sing the high harmony on the bridge, leaving Feist to bellow out a wobbly complement.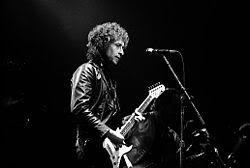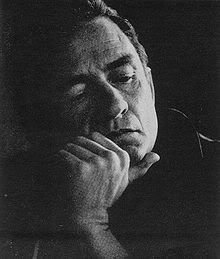 "Girl from the North Country" -- Bob Dylan and Johnny Cash from
Nashville Skyline
The song, a reprise of Dylan's folk version from
Freewheelin'
, features Bob Dylan experimenting in a throaty croon, which would've worked well on its own (and does for the rest of the album.) But when Johnny Cash's stoic voice enters for his verse, it becomes a Cash song. When Dylan reenters for the shared verse, Cash remains dominant and never quite lets Bob catch up.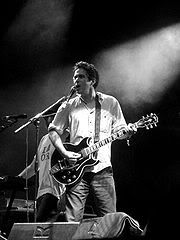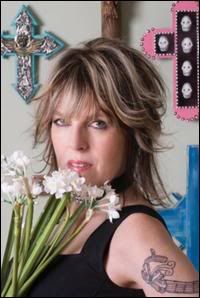 "Oh Lonesome Me" -- M. Ward and Lucinda Williams from
Hold Time
I don't know why, but Lucinda Williams seems so grating when she's singing alongside someone else. Her voice sounds best in the context of her own music, I suppose, but it's especially abrasive when paired with Ward's whispery coo. Apparently she sang a killer duet with Elvis Costello on last year's
Little Honey
, but I honestly can't recall it at the moment despite the fact I do have the album. Regardless, her turn with M. Ward fell a bit short.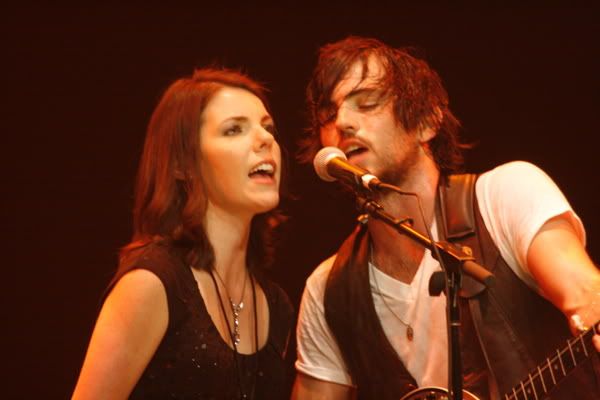 "Swept Away (Sentimental Version)" -- The Avett Brothers (with sister Bonnie) from
Mignonette
It's a very sweet gesture, The Avett Brothers asking their Avett sister to sing on a track. It ain't her fault, but Bonnie is not as vocally gifted as her brothers, sounding like a slightly more tonedeaf Meg White. Her verse is also lyrically weaker than the other three, which leads me to believe she might have penned it. As an album opener, it's hard not to see the sweet side of this track, since the previous album,
Carolina Jubilee
, ended with a recording of the three siblings as young children chatting with their father.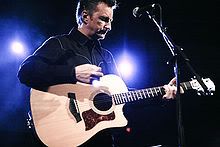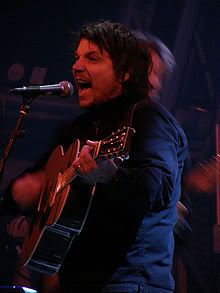 "The Unwelcome Guest" -- Wilco and Billy Bragg from
Mermaid Avenue Volume I
In the documentary
Man In The Sand
, which follows the recording of the album, you get the sense that the respective egos of Jeff Tweedy and Billy Bragg don't always jive. For the most part, the two voices are rarely heard on the same song. You can almost see one pouting off-mic, staring down at an acoustic guitar while the other belts Woody Guthrie's words into an expensive microphone. But on the album closer, "The Unwelcome Guest", Tweedy tries futiley to harmonize with Bragg's strong, British vocals, carelessly coming in late or early, not adhering to any particular harmonic structure. It's a C+ effort for an otherwise A+ album.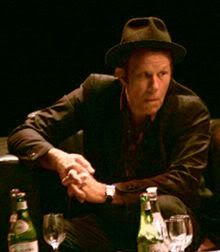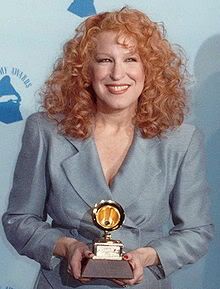 "I Never Talk to Strangers" -- Tom Waits and Bette Midler from
Foreign Affairs
Not unlike Lucinda, Tom's voice just doesn't sound right when he's sharing the mic. Not to mention with a set of Broadway-quality pipes like Midler's.
Foreign Affairs
is also one of my least favorite Waits records, the only Waits album that sounds terribly dated, ocasionally resembling a soundtrack from a late 70s TV show. Midler would go on to sing with another harsh-throated entertainer: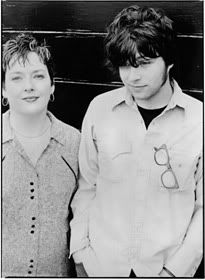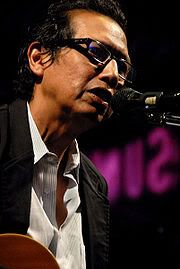 "Excuse Me While I Break My Own Heart Tonight" -- Whiskeytown and Alejandro Escovedo from
Stranger's Almanac
Let's set the record straight: Alejandro Escovedo is a badass. Honestly, this one barely made the cut because I do enjoy his brief contribution. He has the misfortune of singing alongside a vocally flawless Ryan Adams on a very slick record, so the less-refined delivery of Escovedo sounds, by proxy, a little dusty compared to the rest of the sounds you hear. Not that Escovedo isn't capable of powering such a record, as he would prove on 2001's
A Man Under the Influence
.
Alejandro photo courtesy of Steve Hopson. Check
www.stevehopson.com
for more incredible photos, musicians and otherwise.