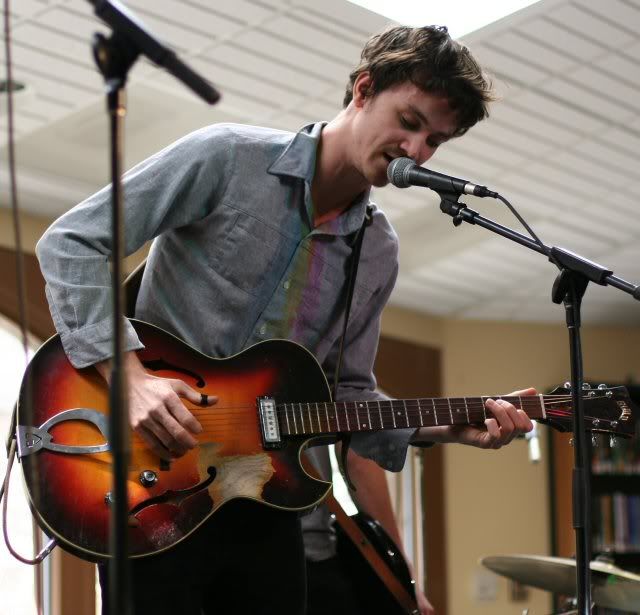 The Felice Brothers
w/Taylor Hollingsworth
The Pour House (Charleston, SC)
September 28, 2009
About six or seven years ago, a friend of mine who lives in Boulder, CO, trying to make it in the music business, told me he and his band would watch live Pearl Jam DVDs to get them psyched up for playing a live show. "We can't watch Zeppelin DVDs, because they're rock gods. But Pearl Jam just seem like regular guys who made it." I recalled that quote as I watched the Felice Brothers play at the Pour House last night.
Alleging that the Felice Brothers have "made it" is worthy of a dismissive chuckle. Sure, there's buzz. Glowing reviews of their 2009 release
Yonder Is the Clock
. Co-headlining a tour with fellow purveyors of old-time rags Old Crow Medicine Show, Justin Townes Earle, and Gillian Welch/David Rawlings. Decent and steady festival billing. Now headlining their own US/European tour--small venues, bars, but the Brothers are drawing. Success? Definitely. Made it? Not quite.
The regular guys part? That, they have down pat. A quintet of twenty-somethings who wouldn't look out of place pumping gas or busing tables, they don't exactly doll up for the stage. You get the feeling they rolled out of bed just in time for soundcheck. And the band doesn't hide backstage before the show. James Felice mans the merch table, making no effort to schmooze, and dutifully exchanges cash for shirts. The Strokes-looking bassplayer, who's simply known as "Christmas", paces aimlessly and is largely ignored by none-the-wiser fans. Only frontman Ian Felice seems a bit out of place, all rock-star thin and keeping relatively quiet while mumbling to his manager between drags, but even he looks like he could be some blue-collar mechanist there for nothing more than a cold beer to cap the day.
Regular guys, all of them. And it's an impression that's supported by their performance. It's a damn sloppy affair, but that's no insult. Raucous, too. The tiny stage of James Island's Pour House could barely contain the gang. Ian Felice high-kicks in place as he rakes his vintagey Guild semi-hollowbody with metal fingerpicks. Fiddle player Greg Farley explores the stage, waves his arms while not playing, looking every bit like a Brooklyn MC in his Yankees cap and white undershirt, not to mention vaguely hip-hoppish banter (at one point he informed us that things were about to get "Looney Tunes in here!") Hefty, bearded James squeezes the life out of his accordion, or bashes his worn electric piano/organ, bellowing out slightly off-key harmonies. The stage banter wasn't overly calculated, nor charming...it didn't need to be. Most of the band was loose and silly, and embraced the house-show feel.
And yet...I couldn't help but get the feeling that primary frontman Ian Felice wants something more. He's easily the best showman of the group, and the quickest. When a girl screeched the request "Don't Wake the Scarecrow", a tune attributed to former member Simon Felice who left for unknown and perhaps tumultuous reason, Ian grinned and responded "That's right, don't wake him..." Again, Ian seems to fit the artiste mold a bit more than the other members--a bit less approachable, a bit more comfortable on stage, and almost certainly the principal songwriter in the bunch. He's an excellent guitarist in a band that doesn't hold a high standard for musical ability. (During a lenghty pre-show chat with Farley, he told us that he'd only been at the fiddle for a couple of years. Their drummer, a friend of the band who took the place of Simon, has literally played the skins for a few months.) The show, admittedly, grew sloppier towards the end, and Ian seemed to lose a bit of his interest. He sang the last verse and chorus of close-out song "Run Chicken Run!" without strumming his guitar. Perhaps he lost his signal; I couldn't tell. Either way, I think Ian was a little put off by some of the silly-good-time stage antics that his cohorts displayed. He wasn't above stage antics, but his all seemed a bit less like he was monkeying around, and more like a means of conveying his persona. This is all speculation, but I wonder if Ian's apparent ambitions might have had a hand in his brother's departure. We'll have to wait for the memoirs, I suppose.
Some of the stats: The show was heavy on new music--and by new, I mean newer than
Yonder
. In fact, I believe we only heard three songs from the 2009 release ("Chicken Wire", "Run Chicken Run!", and "Cooperstown".) There were five or six brand new tunes, some muddled by Christmas's insistence on using an annoying bass delay effect. But, for what it's worth, they sounded promising. They didn't shy away from their most accessible release, 2008's self titled effort: "The Greatest Show On Earth", "Frankie's Gun", "Goddamn You Jim", "She Loves Me Tenderly", "Whiskey In My Whiskey", "Take This Bread", and "Helen Fry" were all offered up. We heard the first three tracks from 2007's
Tonight at the Arizona
, "Roll On Arte", "Ballad of Lou the Welterweight", and "Hey Hey Revolver." "Her Eyes Dart Round", an older tune I've only heard via YouTube, was played as well. The crowd was thick, a lot fuller than I'd anticipated. Opening act Taylor Hollingsworth, who I soon deduced was a member of Conor Oberst's Mystic Valley band, sang some nicely plucked folk tunes in his unique nasally and cracked vocal style. He lent some underwhelming lead guitar to the latter half of the Felice Brothers set.
All in all, it was a rager of a folk show. My eardrums are still fighting off the tinnitus from Ian's trebley guitar, which was blasted through a Fender amp. I don't have any doubt I'll see Ian Felice in Charleston again--hopefully with his brothers in tow.
Other Pour House Reviews:
Jason Isbell
The Hold Steady