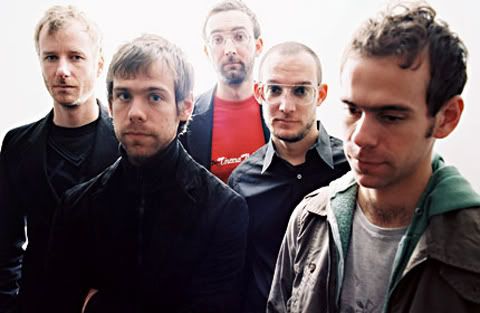 God I bet I'm the only writer to engage in that kind of clever wordplay when covering this band! Anyway you've probably heard by now, but the venerable indie act The National will release an
as-yet-unnamed LP in May
. This news is welcome, as it's been a mind-boggling three years since
Boxer
was released. Probably no one remembers that it was my
4th favorite album of 2007.
That album always reminds me of the job I worked in Columbia that summer, fresh out of college and sitting in an office on Main Street with a nice view of the business district. I had no iPod back then, so I loaded six or seven album into my work computer's iTunes (
Boxer
,
Sky Blue Sky
,
Emotionalism
, and
Since
by Richard Buckner are the ones that I remember specifically.) Anyway, that's my uninteresting story there. But "Start a War", "Green Gloves", and "Ada" are some of my favorite songs, and
Alligator
was awesome, so chances are we have another winner to look forward to.
A handful of tour dates accompany but of course nothing to speak of in the Carolinas. What does Paris have that Myrtle Beach doesn't?