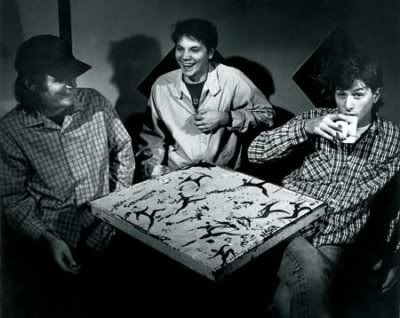 Kicks: We all get on them. I guess I'd call it a swell of fervent interest in a particular band. You might find yourself poring over YouTube for their live videos, or they might look especially appealing on your iPod's list of artist. Who knows what it is -- but we've all been there. Just this past year I can recall going on seperate My Morning Jacket, Avett Brothers, and Andrew Bird kicks. These kicks can be instigated by a live show, as was the case with the
latter
two
, but sometimes there's no singular big bang theory. They come and go like the weather.
Such is my current Uncle Tupelo kick. Its genesis was the random selection of
No Depression
as driving music from an as yet unorganized moving box. A few spins later, I found myself marching through their catalog, including the UT Anthology that came out several years back (essential listening by the way, as it's got some fantastic alternate takes that aren't even included as bonus tracks on the reissues.)
At any rate, it got me thinking: what's the essential Tupelo disc? In their short life as a band, they released four unarguably essential and influential albums. I can think of few other bands whose existence was so musically rich, who batted 1.000 over four albums. And although they weren't the first to play 'alt-country' music, they've become recognized as the grandfathers of the genre's heyday. Their success championed a movement that gave a voice to Alejandro Escovedo, Whiskeytown, and the Drive-By Truckers, not to mention the alt-rock titans that were borne out of the band itself.
I'm sure Jay Farrar, Jeff Tweedy and Mike Heidorn still scoff at such aggrandizing paragraphs as the above, but like it or not, they're the standard bearers of modern alt-country. That said, Tupelo, and indeed the genre have their detractors. They've been called inauthentic, creators of a romanticized view of middle America. To be fair, it's hard not to chuckle when you hear Tweedy singing "Down here, where we're at/Everybody is equally poor." From the lyric you'd think the band sat around in a shanty town, clothes tattered and bare feet dirty. From what I've read, theirs was a lower-middle class upbringing that wasn't inherently tumultuous. In
Sex, Drugs and Cocoa Puffs
, Chuck Klosterman wrote (in a classic hipster move) that Nashville pop-country is a more pure genre because it deals with barbeques, F-150s, blind Patriotism and other tenets of yee-haw America.
I'll grant it's a fair point, but I guess my question is this: What's wrong with romanticizing things? Isn't it in the tradition of Johnny Cash and Bob Dylan, who sure as shit didn't do all the things they wrote about? Perhaps Uncle Tupelo songs seem too reflective and declaratory, too personal and resounding to strike listeners as legend. Still, this would seem a credit to the songwriters rather than a flaw, wouldn't it?
No matter the validity of their content, the band did what they did without fear and with an unmatched dynamic that, sadly, couldn't last. It's sort of staggering to think about today; that two of the biggest egos in Americana were in the same band. But those who've read about the situation knew that as Tweedy's songwriting improved and his involvement grew, a rift developed between he and Farrar. By the time
Anodyne
was written and released, tension was thicker than Frisco fog. The band only lasted eight more months.
Sadly, a reunion seems about as likely as me winning a dunk contest. I imagine the chasm between Farrar and Tweedy has only expanded, as the two have traded barbs over the years. Pride notwithstanding, I doubt either would be quick to drop what he's doing today. But as they say, we'll always have the music; four distinctly brilliant albums released over a span of only 50 months.
So which is the best? Most would argue that
Anodyne
was the glorious culmination of a band that couldn't contain its talent, but I think a case could be made for any of the four. Let's have a look at the full slate and see what's what. Over the next three days, you'll see three separate posts: A pro/con discussion of the first two albums, the same thing for the last two albums, and then we'll wrap it up with a conclusion on Thursday. Keep reading, and spin your Tupelo in preparation!