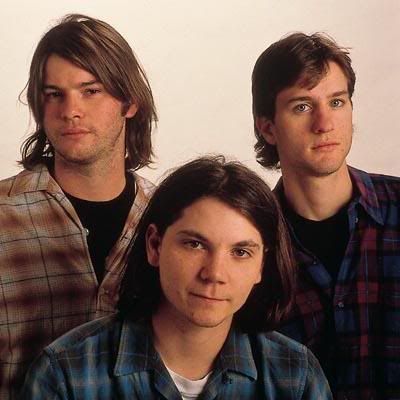 All that said, which one is best? My goal was not to reach a conclusion, but rather to examine the debate. Furthermore, who am I to say which one as best? I was barely out of diapers when the first album came out, and learning simple fractions when the band played it's last gig in 1994. I can give you my favorite (
March 16-20, 1992
or
Anodyne
, depending on the day), but unlike my pandering year-end lists, I'd rather not categorize them by quality.
As always, I'm curious to hear the public opinion on the matter. HSW writer Drew is a Tupelo fiend (I have fond memories of jamming to "15 Keys" and "Slate" with Drew in college) and may have some valuable input on the subject. For those of you who are unfamiliar with the band, I implore you to at least check out the
Anthology
released in 2002. It's a fine catalog of many (but not nearly all) of Tupelo's essentials. If nothing else, it'll give you an idea of the band's general sound and it's progression over the course of their career.
I'll end with a small anecdote. A year or so ago, I found myself in a jam session with a good friend and a buddy of his named John. We got to talking music, of course, and I brought up Tupelo. Imagine my surprise when John told me they'd actually opened for him. In the late 80s, he had a marginally successful band and it so happened that, at a gig in Athens, they were to share a bill with the young trio from St. Louis. After Tupelo's set, John's band took the stage. Only problem was virtually
everyone
had followed Jeff, Jay, and Mike outside of the venue to get a word with this incredible group. I believe he said Michael Stipe had even showed up to catch them (Peter Buck, Stipe's guitarist in R.E.M., produced
March 16-20, 1992
.) John of course laughed about it, but I wonder what he must have thought when he saw the crowds pouring out the door? Indeed, the crowds would continue to follow Tupelo, up until the last song they ever played. Which, kinda hilariously, was this:
Thanks for reading, folks. Now go put on
No Depression
...