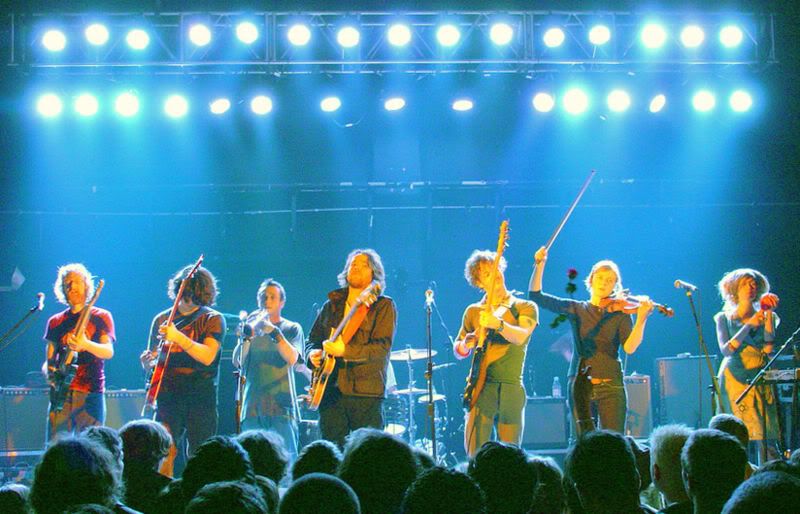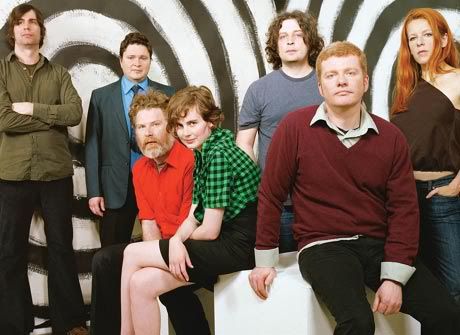 Pictured: Lots of effin Candians.
In light of Sunday's Vancouver beatdown, I thought it fitting to highlight an area that Canada has had some inarguable success: Indie rock. Particularly indie-rock mega-groups featuring an almost unfair amount of talent--not unlike the national hockey team, except the bands come out winners.
Of course I'm referring to Broken Social Scene and the New Pornographers, both of whom have new albums set to drop in a few months time--ON THE SAME MF&*%$&*@ING DAY NO LESS! (That day would be May 4, 2010. Also out that day: Josh Ritter's new one and maybe the National. /head explodes)
Both have also released a track from their album. So far, BSS' "World Sick"
(download here)
is sounding a bit superior to "Your Hands (Together)"
(listen here)
. The former, as you would expect from BSS, washes over you like a tidal wave of shiny rainbows. The New Porno's track kinda sounds like it could soundtrack a montage scene in a Mighty Ducks reboot. Not to say I don't still have high hopes for TNP's
Together
. But maybe not as high as I do for BSS's
Forgiveness Rock Record
.
So just how similar are these bands? Let's have a look at what traits the two bands share:
Canadian
Tons of band members
Attractive Talented females who are successful as solo artists (Feist, Neko Case)
Both poised to release fifth studio album
Alright, that's all I got. What'd I miss?