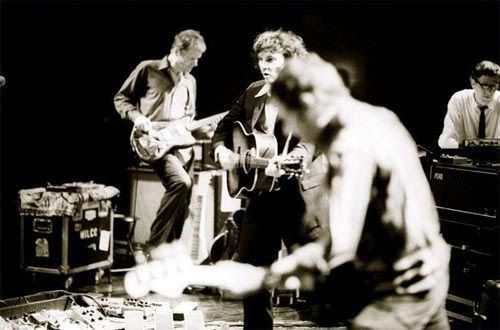 A final point I'd like to address is that one must recognize
Yankee Hotel Foxtrot's
eerie allusions to 9/11 imagery, despite being written prior to the attacks. As "Jesus, Etc." portends, "Tall buildings shake, voices escape singing sad, sad songs." It's important to note that the album was, due to the record label snafu, released after the attacks. So much about it seemed relevant: The lyrics, the bizarre musical sentiment, even the album cover (featuring two Chicago apartment buildings, whose similarity to the World Trade Towers is minimal but still a bit chilling.) I don't doubt that some of the album's success was time relevant, but not in the same way as Ryan Adams' "New York, New York". Like
Yankee Hotel Foxtrot
, Ryan's song was written well before the attacks. However, his was received as an anthem, a rallying cry and celebration of the city. I think
YHF
was more of a catharsis for some folks, or a musical manifestation of a post-9/11 reality check. It's not an uplifting album, but I'd argue that it isn't completely without hope. It's an endorsement of human relationships, the vehicles by which we are borne through the most difficult of times. And that's why the album's final lyric is so important. We all have reservations about war, terrorism, money, religion, and every other facet of life. But the one shred of faith that at least
can
but retained when all else is so daunting is the faith in another person. Again, this is why the album is so relatable. It's a slush of emotions that inquisitive, flawed 20-somethings juggle on a daily basis.
A disclaimer that I'd like to reinforce is that this lengthy write-up is
my interpretation
and in no way is it an objective retelling of the band's approach to the album. I emphasize this not to deflect any criticism or refutations, but rather to remind the reader not to go around trumpeting any of my analysis as fact. I'd imagine if Jeff Tweedy read my write-up, he'd say one of two things. Either, "Wow, it's great that something I created can take a life of its own in someone else's mind." Or alternately, "Jesus, this guy is not only way off base, but he thought more about these lyrics than I did." Anyone's critical analysis and even their base enjoyment of the album are all affected by things like our exposure to other art, our preconceptions of the artist in question, our own subconscious ability to make something mean whatever we want it to mean. Regardless, it all boils down thusly: This is one way of looking at it. I'd be interested to read other critical analysis of the album and see what kind of parallels can be drawn.
I was ultimately inspired to write about this because, with an album such as this, the appeal lies beyond "Well, it just sounds good." Because, frankly, that doesn't work for
Yankee Hotel Foxtrot
. It doesn't roll smoothly into the ears, in the way that, say, Van Morrison's
Moondance
does. Yet it's as critically acclaimed as any. It's a deep and dense album, one that demands patience, repeat listens, and an appreciation of subtlety to truly enjoy. I don't know if anyone latched on to
YHF
after the first listen. But over time it reveals itself, rewarding the listener. And whether or not you pay
any
heed to my essay and peg me for a longwinded fanboy (you'd be right), I'd invite anyone who hasn't fully embraced the album to give it a few more listens. All in all, the album is a perfect representation of the way I interpret Jeff Tweedy's intentions as a musician. As with
Kid A
or
Pinkerton
, each song on
Yankee Hotel Foxtrot
represents some greater credo that could be chiseled in into the artist's monumental facade.
Thanks for reading, and happy listening!