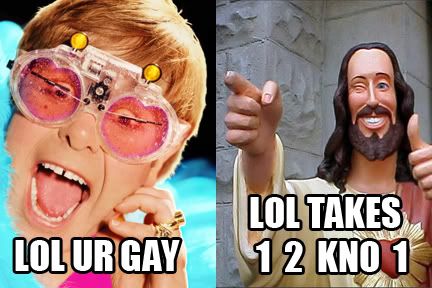 Today in Statements That In No Way Will Offend Anyone: everybody's favorite bespectacled gaptoothed man-diva alleged that
Jesus was a "super-intelligent gay man."
Zombie Jerry Fallwell is praying for our souls, and also,
braaaains.
But what does this mean for Lord and Savior, Son of Man, and alleged fruitcup Jesus Harold Christ? Were his sandals actually designer Minolo Blancs? Was Mary Magdalene just an ugly chick who tagged along to gay bars? In the Sermon on the Mount, did Jesus also say "Blessed is the new season of
Project Runway
"? Tell us more EJ!
At any rate, I'd like to announce my plans to sell protest materials outside of any upcoming Elton John concerts. High-quality paint stirrers taped to neon posterboard scrawled with such hard-hitting messages as "JC WASNT GAY", "GO TO HELLTON, JOHN", and "AT LEAST JESUS DIDN'T NEED BERNIE TAUPIN TO BE RELEVANT." Only 50 dollars a pop! Get your hatred while it's hot!
/satire
Here's the quote in question, which is the only allusion throughout the entire interview that EJ made to the gay Christ postulate. From the irritating
Parade.com
:
"I think Jesus was a compassionate, super-intelligent gay man who understood human problems. On the cross, he forgave the people who crucified him. Jesus wanted us to be loving and forgiving. I don't know what makes people so cruel. Try being a gay woman in the Middle East -- you're as good as dead."
The part about Jesus being gay seems kind of superfluous, although not to say it isn't resounding. Makes you wonder if he just threw it in there just to stir up the Christian right. Especially considering the publication,
Parade
, is a harmless aggregation of puff-pieces, like the
Regis and Kelly
of syndicated magazines. I imagine many a churchgoing housewife will raise her eyebrows, asserting in a mild Southern drawl, "Well, I liked him but now I just don't know if I can support that kinda filth!" (takes kids to soccer, feeds golden retriever, shops at Bed Bath and Beyond, watches
Ellen)
To conclude, I'll mention that HSW contributor Thomas and I saw Elton John back in college, and if being gay made Jesus
that
entertaining, maybe we'd all be a bit more committed to his teachings. Overheard at the Rapture: "The bitch is back!"