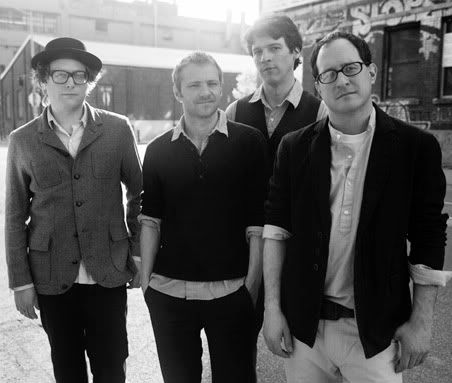 May is going to be a big month. On a personal front, I hit the quarter-century mark. So those of you looking for gift ideas, throw this one on the heap: Take-no-prisoners barroom brawlers The Hold Steady
(sans Franz)
will release a new album,
Heaven Is Whenever
, in May. They'll join Broken Social Scene, The New Pornographers, Josh Ritter, and the National in doing so.
What's most intriguing to me is guitarist Tadd Kubler's description:
This album is sonically more diverse (than past THS albums). And I really believe it exposes new elements of the band that we hinted at on other records but weren't able to fully realize until this one. Rather than just concentrate on changes in instrumentation, we made changes to the song writing process. And this helped everyone to experiment not only with their own instrument and where they should play, but where they shouldn't. This record doesn't feel as dense. It feels more spacial. We weren't trying to get a dozen different ideas on a song

...

One thing we've never really tried was writing in the studio and using the studio itself as an instrument.

By throwing around buzz words and phrases like "experiment", "sonically diverse", and "using the studio itself as an instrument", you'd think Tadd might be reneging on his
Radiohead hate
. But this could just mean that a few more slow songs turn up. Who knows! What I do know is they better
get back
to Charleston and soon. Hopefully my tinnitus from the
Isbell show
will have cleared up by then.
The Hold Steady is back. Get psyched, boys and girls in America!*
*Also applies to boys and girls in other countries.
Tracklist:
01 The Sweet Part of the City
02 Soft in the Center
03 The Weekenders
04 The Smidge
[G: This is such a Hold Steady-ish song title]
05 Rock Problems
06 We Can Get Together
07 Hurricane J
08 Barely Breathing
09 Our Whole Lives
10 A Slight Discomfort