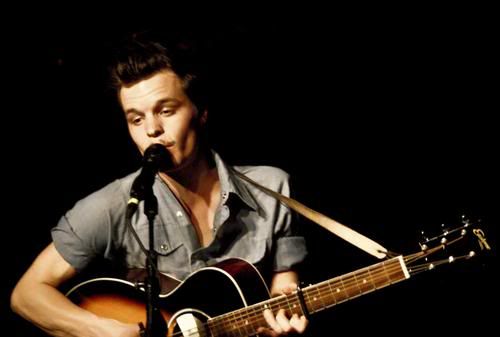 I don't know what I was doing back in 2008 when
Shallow Grave
, the debut release of Kristian Mattson, aka The Tallest Man On Earth, was released. Twas a year rife with tuneage, and regretfully some discs must fell through the cracks.
Shallow Grave
was one of them. I'd read high praise and heard a track here and there; more than enough to pique my interest. But as weeks, months and now years wore on, Kristian's debut was fossilized 'neath strata of newer releases.
Two years later, word of a new release circulated. The inevitable leak bred praise that's usually reserved for the likes of established indie acts at their creative peak. So I nosed around and found
The Wild Hunt
, Mattson's sophomore effort, and gave it a spin.
I'm already stitching the "Songwriter album of the year" pin to its scout sash. (I'll retroactively dole the award out to Fionn Regan, Bon Iver, and Cass McCombs for 2007-2009, respectively.) Just when I think I'm tiring of the singer-songwriter motif, an album like this comes along sounding so fresh and inspired, even if it's not particularly revolutionary. Mattson's vocals are noticeably Dylanesque, but they're charged with boyish Scandinavian flare instead of Dylan's sleepy-eyed nose-folk. Think Viking Langhorne Slim, pre-decent into the burbling vat of cheese-folk that was 2009's
Be Set Free
.
Standout track thus far is the vibrant "Burden of Tomorrow", but single "King of Spain" is a royal foot-stompin' good time: