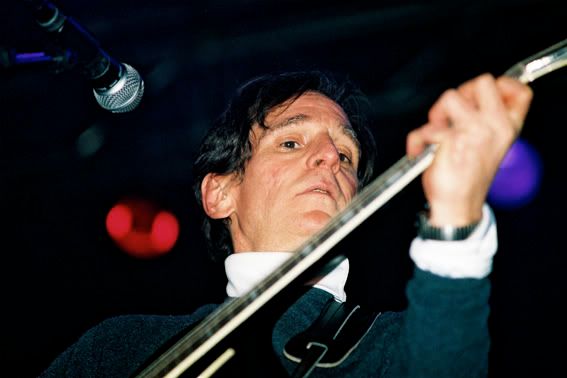 Sad, sad news that you've probably already heard: Alex Chilton has died of a heart attack. Chilton is most well-known (although not by name) for two things:
"The Letter", and oldies hit by The Box Tops. Admittedly, I didn't know this was Chilton's band prior to this week's wave of biographical information following his death. But I certainly knew the song. This one time, a bum in Washington, DC sang this for my eighth grade class while we were walking on the National Mall.
Big Star, Chilton's band which famoulsy did "In the Street", a.ka. the theme song to

That 70's Show

, although it was redone by Cheap Trick for the show.
I can't claim mega-fandom of Chilton or Big Star, but I do own records by and enjoy Big Star, and furthermore, he and his band were a major influence on many of my favorite artists including Wilco, Whiskeytown, and Elliott Smith. The Jayhawks, at times, sound identical to Big Star. The group was incredibly influential to the likes of R.E.M. and the Replacements (any 'Mats fan has air-drummed to "Alex Chilton"). To get an idea of Big Star and Chilton's influence, check out this quote, lifted from Wikipedia who lifted it from Allmusic.com:
Jason Ankeny, music critic for Allmusic, identifies Big Star as "one of the most mythic and influential cult acts in all of rock & roll", whose "impact on subsequent generations of indie bands on both sides of the Atlantic is surpassed only by that of the Velvet Underground".
Again, I'm no afficianado but I can certainly attest to Chilton's excellent songwriting and singing ability. This is no deep cut, but it's certainly my favorite Big Star song, one that perfectly captures innocent teenage emfatuation.
Elliott Smith doing a heart-squeezing version:
A
Being There
-era cover by Wilco: