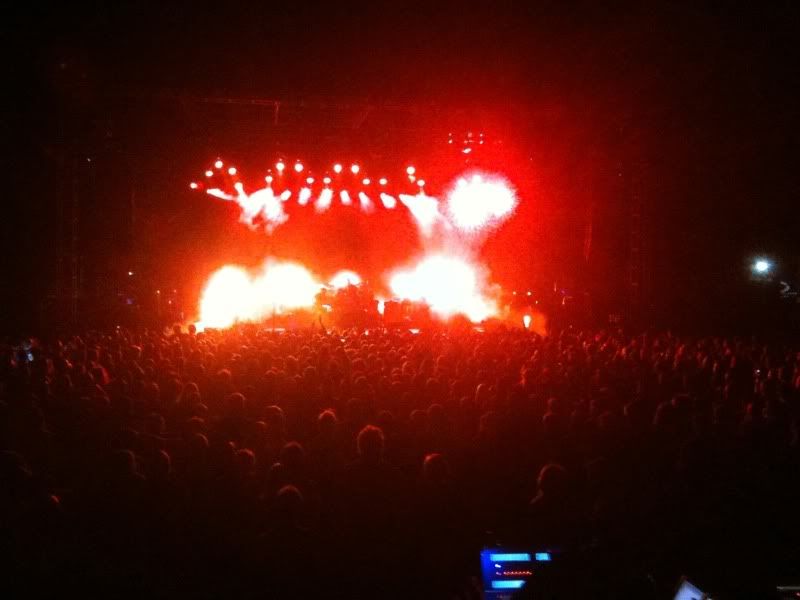 My Morning Jacket
w/Preservation Hall Jazz Band
Family Circle Cup (Charleston, SC)
April 28, 2010
When it comes to checking off must-see live acts, I've done OK.
Tom Waits
,
The Hold Steady
,
Wilco
(x8),
Radiohead,
The Avetts
. But if there's a glaring omission (and there are several), perhaps the most boldfaced/underlined/frantically circled is My Morning Jacket. I've heard tell of unparalleled rock majesty that stirs festival crowds into a maniacal frenzy for hours on end. Even this mini-tour, on which Charleston was graciously included, has been flagged as an awe-inspiring stretch by the group's fervent fans. And why not? Aside from it's already stellar reputation, the band upped the ante by bringing the Preservation Hall Jazz Band along with them, not only as an opener but as a brass section for MMJ itself.
The show took place at the Family Circle Cup on Daniel Island. This was actually my first time at the stadium, which generally plays host to acts like Hootie & The Blowfish, The Doobie Brothers, etc. You know, those bands whose demographic exists at the intersection of hippies and shaggy post-Frat House bros. While MMJ certainly attracts these types in droves, they also introduce into the mix a breed of aging hipster who probably saw MMJ play bars back in college. Here's to hoping the band is trailblazing a new era of acts for the FCC. Prediction: Band of Horses headlines in two years.
The front of the stage was basically the mid-court line, if not a few yards behind it. The remaining half of the court was general admission, and all the rest was stadium seating. To call upon an overused (and oft untrue) statement, there really wasn't a bad seat in the house.
Not wanting to deal with general admission, my girlfriend and I went the seated route. I definitely don't regret it. Through a connection, we scored band holds--specific sections that are held for friends/family of the band, and eventually released if they remain unclaimed. Our seats were dead center, three rows back of the court. If there were a tennis match going on, we could have spit on Andre Aggasi's back. Our spot afforded us a full view of everyone on the stage, not to mention a nice view of the sound guys' rig.
We wandered in early--a hair past seven thirty--and Jim James' voice was rising from the vestibules. He was sitting in with the Preservation Hall Jazz Band, providing vocals on a few slow Bayou jazz marches. Perhaps it was their early start, but they played to a very thin crowd.
As the cloudless sky went purple, the venue rapidly filled, streams of fans pouring into the GA and seated sections alike. It was only about 75% full when MMJ took the stage and set into "Tonite I Want to Celebrate With You".
I love non-album tours, because you generally get a balanced mix of material. Such was the case, with MMJ spreading the set semi-equally over their last four major releases, relying heavily on
Z
and
Evil Urges
. Song of the night was unquestionably "One Big Holiday", probably the band's flagship number. It was a special moment when the (now) capacity crowd overpowered even Jim's vocals, roaring the first line, "Wakin' up, feeling good and limber". Amazingly, there were those who remained seated the entire show; yet "One Big Holiday" left no ass in its seat.
Other highlights were "Steam Engine", "Dancefloor", "Mahgeetah", and "Wordless Chorus". But special props to "Gideon"...good lord, does that song explode in a live setting, thanks in no small part to Jim James hitting
that
note. You know the one: "C'mooooooooooooooooooooon!"
The setlist was good but not great. And it wasn't the selection of songs, per se (although several
Evil Urges
tunes did languish.) It was the order. A lull in the middle of the set occured when they essentially lost the crowd. This is probably more of a testament to the crowd than it is to the band, but nonetheless there was a noticeable dip in interest. One song that truly never took off was "Touch Me I'm Going to Scream Part 1". I was also kind of irked when they only played the outro of "Run Through".
They did indeed bring out the Preservation Hall Jazz Band for the encore, although they seemed largely superfluous for the most part (except of course for the epic "Dancefloor" and "Carnival Time", an old New Orleans jazz song.) They closed with a Curtis Mayfield song, which I could have done without. But I was actually in the minority there, as it got more of a rise out of some folks than any of the originals did.
Jim James is kind of weird on stage, but in an endearing way. He's quite the performer--leg kicks and spins and knee slides--and he's in complete control of his stage presence. He had two plastic guns in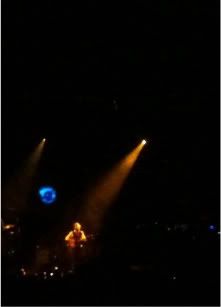 holsters. In compliance with the old "If you see a gun in the first act" adage, Jim did "fire" off a few shots. Most notably during the wind-down of "Mahgeetah", he did an extended hammer-on/pull-of with his left hand on the fretboard while twirling a plastic gun with his right hand. And then he shot the audience as the lights went black. He sported a black cape, mostly on songs when he didn't play guitar. He didn't speak much, which is in stark contrast to Wilco shows where Tweedy rambles endlessly. But boy does he make up for it with his singing chops. Whether he's singing in a neo-funk falsetto, a soaring country howl, or just an all out shriek, the guy must have lungs the size of suitcases.
The show was an absolute blast, and yet I was kinda hoping I'd enjoy it a bit more based on the megafans' build-up. More than likely they were a victim of overly inflated expectations. Anything less than perfect was automatically a letdown, which isn't fair to the band. But that's the way it goes when you take cues from superfans, especially when you aren't one. I will say this, though: the MMJ kick that's already taking shape will likely push them into my top tier of musical regard. The more I think about it, the more I already want to see them again.
The setlist:
Tonite I Want To Celebrate With You
At Dawn
Gideon
Off The Record
What A Wonderful Man
I'm Amazed
Touch Me I'm Going To Scream Part 1
Golden
Thank You Too
Mahgeetah
Laylow
Lowdown
Wonderful
Librarian
Steam Engine
Smokin' from Shootin'
(end of) Run Thru
Touch Me I'm Going To Scream Part 2
One Big Holiday
E:
Over The Rainbow (PHJB's Weenie Solo)
Wordless Chorus
Evil Urges
Dancefloor
Highly Suspicious
Carnival Time
Move On Up