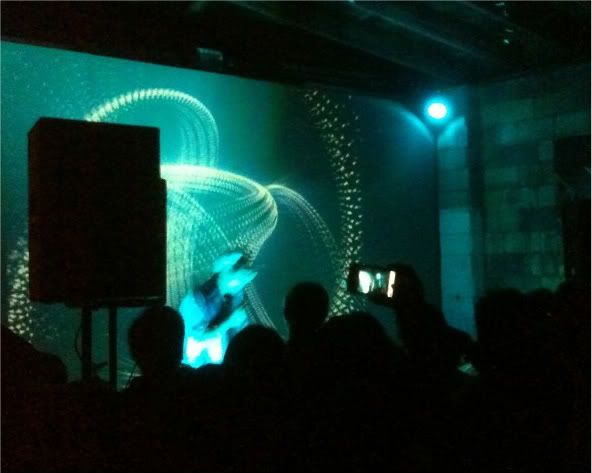 Toro Y Moi
w/Machete
Eye Level Art (Charleston, SC)
April 24, 2010
Is the so-called chillwave movement significant? Or is it just a passing mutation of a larger genre, a brief intermingling of electronica and lo-fi indie whose legacy will be that of a microtrend, providing fodder for tomorrow's balding hipsters to wax nostalgic. "Aw yeah, 2010 was the summer of glo-fi.
Good times.
"
So funny that Columbia, SC--birthplace of this blog--is of considerable importance to the burgeoning genre, serving as springboard for two of chillwave's young guns, Toro Y Moi (nee Chaz Bundick) and Washed Out (Ernest Greene). My years in Columbia weren't so hip to have afforded me the ability to explain glo-fi as a function of the city, but I can confirm that there
was
a scene, which surprises most who've never been to town. Good friend, musical visionary, and
Dusted Magazine scribe Patrick Masterson
describes chillwave as the sonic manifestation of "Columbia's oppressive summer heat". Swirled into a liberal-arts college town and two dozen suburbs-worth of self-conscious teens, perhaps chillwave was the inevitable byproduct.
I first investigated chillwave with a tepid regard, admittedly reeled in by the fact that I'd seen Chaz's pop-punk outfit The Heist and the Accomplice while in college, and I believe I briefly met him a time or two. Back in November, I saw him perform as Toro Y Moi on the back porch of a pizza joint in Charleston, sharing the bill with four of five other acts despite clearly being the draw. It was compelling enough to find some of his music (last year's
My Touch
demo, and the official debut,
Causers of This
). I've largely relegated these records to backtracking duties (cooking, working, etc.), but I'd be remiss to say they weren't at lease basely enjoyable.
I approached TyM's late Charleston headlining gig with observational reticence, which felt like the adequate level of interest as far as I was concerned. Eye Level Art is a miniature warehouse, hidden behind the crumbling walls of an old house or business that from the outside appears derelict, and indoors seems very much the same, save for the canvases that checker the walls. The small stage was hardly elevated, with a screen at its back and speakers on either front corner. There were a few makeshift bars set up (one at the side of the stage, one in the courtyard in back.) The crowd was comprised of early twenties hipsters who looked as though they'd recently stepped off an American Apparel assembly line.
I could only assume that Machete, the stage name of a young guy with a mustache and black hair slicked back into a pony-tail, had some degree of local or regional notoriety, as would seem necessary prior to comfortably assuming such a moniker. As the opening act, he bobbed at his laptop, squeezing a pair of snazzy headphones between his ear and shoulder, dutifully mashing tunes over a montage of film footage projected onto the screen. Aside from the fundamental issues I have with taking other folks' carefully crafted art and hacking into some sort of mixed-media kebab, Machete's set was absolutely interminable. My girlfriend and I finally retreated to the courtyard for some fresh air.
Mercifully, Machete relented and Chaz took the stage. During set-up, I was intrigued by the guitar he spent a few minutes tuning. Instruments? Is this allowed? Of course, the two songs on which he employed the guitar ("Blessa" and one other I didn't recognize) were among the most enjoyable of the night. It caused me to wonder if chillwave
was
strictly a phase. Its DIY nature is appropriate for young bedroom producers who might not have the means to work digital elements into a full band. My prediction and hope, at least for Toro, is that the project will evolve into a full band without sacrificing the ambient/electronic approach. Chaz is a talented singer and arranger with an impressive grasp of melody. It'd be a real shame to never see him grow out of this laptop stuff.
That said, most of his songs landed, even those when he stuck to his MacBook. "Minors", my favorite from
Causers of This
, surely embodies the nature of the genre, with its blooms of synth and vocal-layers rushing over the audience in slow waves. The accompanying screen projections were relegated to trippy graphics that resembled mesmerizing screen savers. He closed with "Talamak", a surefire fan favorite that could easily translate to a full band set-up (I'm pushing this pretty hard, aren't I?) Chaz's set was brief--no more than 50 minutes. That seemed just about right, relative to his arsenal, and it made me want to seek out Machete and ask if he learned something about the merits of brevity.
Overall, it was an experience I could have done without, which isn't to say I'm not glad I went. I saw an artist whose music I enjoy, and whose set was satisfying. But I'm not naive. This show didn't happen for me. Never mind that it's a bit of a stretch in the taste department; I'm really talking about demographics. Chillwave is for the gaggle of 20 year olds who spent the evening dancing to Machete's mashes and Toro's beats, who'll go home to their parentally funded college crashpads and bask in their own era of irresponsibility, an era that embodies the corny tagline "You think you know, but you have no idea." But alas, I've moved on to a world where the only function of chillwave is to backtrack my workdays and culinary duties. And really, I think I'm OK with enjoying it in that context, if it means I can enjoy it at all.