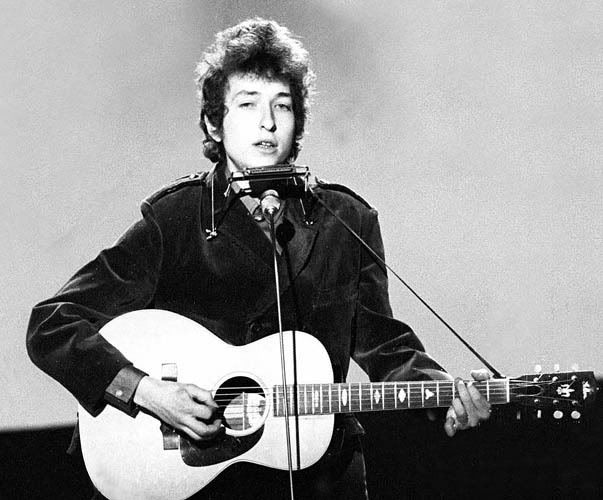 I'd like to take a break from all the
MAYhem
to address a personal phenomenon that occurs steadily on an eight or nine months cycle. A condition known as
Zimmermanitis
, or to the layperson: a Bob Dylan Kick. As mentioned ad nauseam on this blog, Bob occupies more of my shelf-space than any other artist, so it isn't so far-fetched that I'm able to revisit his catalog regularly without wearing a rut in any particular era. Not feeling folky?
Desire
is here for you. Is Bob's post 80's Renaissance the last thing on your mind? Well surely
Blonde on Blonde
will scratch your itch.
The present kick was brought on by a number of unrelated incidents: My recent blogworthy recollection of the
infamous fingerslice
; a screening of
The Big Lebowski
that reminded me how great
"The Man In Me"
is; a gig I played this weekend during which I covered a few tunes.
Right now I'm feeling the glory years, anything pre-1980s. Here are a few I've been hitting pretty hard:
The Basement Tapes
Recorded with The Band during Dylan's late 60s hiatus from touring,
The Basement Tapes'
effortless feel is perhaps its strongest quality. This likely results from the combination of Dylan's songwriting with The Band's slick and snappy roots rockery. Dylan had graduated vocally from the nasal wail that characterized his post-folk output, and assumed more of a gravelly, relaxed style. In fact several of
Basement Tapes
songs were recited more than they were sung--"Yea! Heavy and a Bottle of Bread" and "Please Mrs. Henry" come to mind.
The album is one of those universally-lauded releases that should be required listening to anyone who fancies himself a music fan. It should be mentioned that a handful of the tracks are Band-only, and would eventually show up on
Music From Big Pink
.
The Bootleg Series Vol. 6: Bob Dylan Live 1964, Concert at Philharmonic Hall
Of the three live albums that came from the Bootleg series,
Volume 6
is undoubtedly my favorite. It features a young, humble, silly (and maybe stoned) Dylan playing in front of an adoring crowd. I like the album so much because it captures a sort of vulnerability that existed prior to Dylan's deification and his ensuing resentment of his Messianic treatment. Here he's just a 23-year-old kid, enjoying himself, cracking jokes, forgetting lyrics.
I like the first disc especially, since it's the one that doesn't feature Joan Baez' overbearing vocal contributions. The opening track is an inspiring version of "The Times They Are a-Changin'" that sheds some light on what a powerful song it might have been at the time. I usually throw this disc on before my own performances to get in the zone. Then at the gig, I screw up some lyrics, as an homage of sorts....
***
Some others I've reconnected with recently:
New Morning, Freewheelin', Highway 61,
and
Blood on the Tracks.
All low-risk classics, sure, but just as awe-inspiring as ever, rewarding my ears anew with each fresh spin.
So here's to Zimmermanitis: I plan to savor the flavor until it wears off in a week or two. But, as sure as the sun will rise, I'll be on another kick in September or so. And it'll be every bit as glorious. I leave you with this, a snippet from the famed Royal Albert Hall performance in 1966: