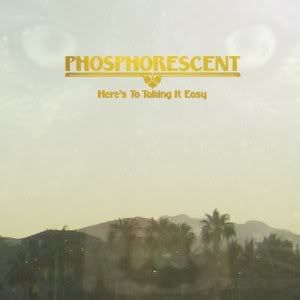 Prior to the second week of May, I had exactly one Phospherescent track, part of a mix a friend gave me a year or two ago. I'd heard 2009's
To Willie
at a party, but I was about 9 beers in (it was after the drubbing SC gave Clemson this year--surely you understand...) so I can't say I recall much. It wasn't until I noticed some message board chatter touting
Here's to Taking it Easy
that I realized Matthew Houck's project had a new release on the way.
It's funny how these things happen. You get pinged by information and marketing messages all the time, so sometimes it takes the proper confluence of channels to get you going. A few positive reviews, some trusted peer opinion, an appealing snippet from the album, and voila. Incentive is born! Such was the case with Phosphorescent's new one.
The band's sound is breezy Americana, with slide licks and shimmering Telecasters swaddled in reverb. Houck's vocal style resembles a less grizzled Will Oldham, and there's a charming vulnerability about the way his pitch-perfect notes fall quiet, ducking into the music as soon as they draw attention.
The album's centerpiece is the crushing ballad "The Mermaid Parade", the reflection of a crumbled marriage that disintegrated in two weeks' time. Between the stereo guitar battle, the pained lyrics, and the eye-misting delivery, it's one of those all-consuming anthems that'll cause you to drop what you're doing and step into the music for the next five minutes of your life.
"Nothing Was Stolen (Love Me Foolishly)" and "I Don't Care If There's Cursing" are a couple excellent up-tempo highway songs that cut through the wind, serving as a nice contrast to slower, more pensive jams like "We'll Be Here Soon" and "Tell Me Baby (Have You Had Enough)". Most curious is "Hej, Me I'm a Light", which sounds vaguely menacing like an Indian spiritual chant or something of that ilk. It's a marked deviation from the desert Americana aesthetic that virtually all other songs take. But it's strangely attractive, like staring into a fire or something.
The Will Oldham comparison comes full circle with the barroom romp "Heaven, I'm Sittin' Down", which sounds lifted from a Bonnie "Prince" Billy album, but not in a way that'll make you scoff. Nine-minute closer "Los Angeles" is a slow-burning dirge that sounds equal parts Red House Painters and Willie Nelson, and serves as a suitable coda to this fine album.
Aside from the quality of the music itself, the strongest trait of the nine-track LP is that it's concise and humble. Phosphorescent doesn't reach any farther than it should. In that way it reminds me of Cass McCombs' Catacombs, my #1 album from last year. It's an artist playing to his strengths, and generally this creates both a likeable and a versatile album. And by that I mean it can be appreciated in any number of situations, unlike, say, The National, whose music needs to be consumed with liberal amounts of gloom and/or darkness. I think the highest praise I can dole is that
Here's to Taking It Easy
is not an album you have to
try
to enjoy.
So congrats Phosphorescent, up against largely insurmountable odds, you created my favorite music of May 2010. Good on ya!