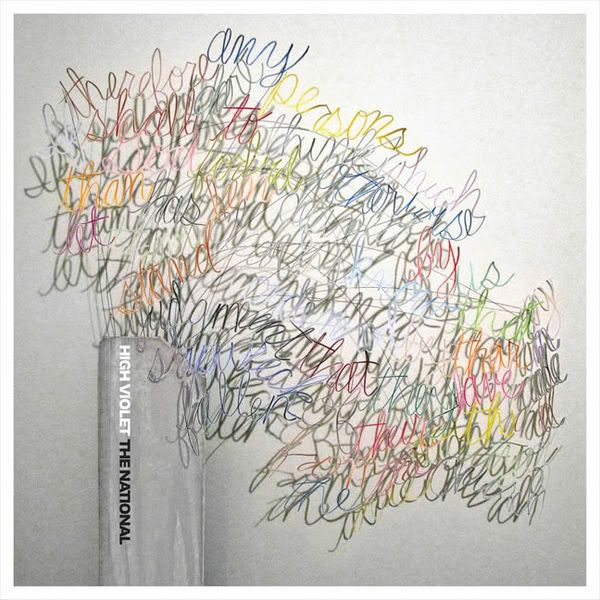 High Violet
The National
In 2007, I distinctly recall plucking
Boxer
from the new release bin at
Papa Jazz Records
in Columbia, SC. My knowledge of the National at that point could barely fill a Dixie Cup, and yet even I was swept up in the mass anticipation of the band's new release. And so
Boxer
completely delivered (
was in our top 5 of the year
) and three more years have passed. That means the anticipation for
High Violet
is like
Boxer's
on steroids. Can it possibly deliver?
Well, sure. It's the National, a band that's on a decade-long creative hot streak and showing no signs of fizzling out. While generally considered one of (good) music's powerhouses, some folks are put off by Matt Berninger's bassy mumble. As someone who spent car trips listening to his dad's Dire Straits albums, it agrees with me in a comforting way. After an album of dwelling in the shadowy depths vocally--forward in the mix, but always low low low--Berninger lets his voice stretch to its higher limits a bit. On "Afraid of Everyone" he sings in a higher register than we hear at any point on
Boxer
.
From the zero hour, it's evident that
High Violet
is going to be a more bombastic affair than its gloomy predecessor, with opener "Terrible Love" burbling anxiously before finally geysering into a hyper-emotional tsunami. This sort of upfront approach is a steady theme throughout the record. Think of it as
Boxer
without such a conservative approach to mixing. Where scant arrangements and minimalism prevailed on
Boxer
, broad atmospheres and live-conscious mixes win the day. Compare
High Violet's
"Little Faith" to
Boxer's
"Brainy"--two similar sounding songs--and you'll hear the difference.
Props to drummer Bryan Devendorf for his expressive drumwork--I always love a drummer who assumes a role beyond that of human metronome. It's those songs that he scales back his playing--"Anyone's Ghost", for example--where I find my interest flickering a bit. But for the most part, his abilities are allowed to shine, never more than on the instant classic "Bloodbuzz Ohio", already being anointed Song of the Year by many. The song is pretty incredible, a perfect alignment of all the National's greatest features: The aforementioned drumwork, Berninger's direct and relateable lyricism, creative counter-rhythmic melodies. It's the crown-jewel of
High Violet
, an album that not only underscores the National's time-tested aesthetic approach, but could establish them as bona fide influencers of tomorrow's young bands. I wouldn't deem it out of the question to see a movement borne out of their creative approach.
Pros:
The songs, the drums, the lyrics, the overall aesthetic--the National has it down pat, yet they continue to both subtly expand and refine their music.
Cons:
A few tracks that cheat towards the middle-of-the-road, although without fully reaching it. If nothing else, they serve to highlight
High Violet's
many strong tracks.