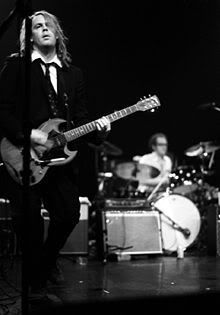 A year ago today,
I blogged about the inimitable Jay Bennett's tragic death
. Jay overdosed on prescription painkillers, dying in his sleep on May 24, 2009. For those who need a reminder, Jay Bennett was Jeff Tweedy's right-hand man during most of Wilco's glory run (1994-2001, culminating with his work on
Yankee Hotel Foxtrot
). Jay kept on with a solo career, releasing several albums throughout the last decade.
Here's the good news: One more is on the way.
Kicking the Perfumed Air
will be available for free download from
The Jay Bennett Foundation
, a music and education foundation set up by Jay's mother and brother. You can also buy a hard copy of the CD. If you snag the free version, I recommend donating a few bucks to the foundation in Jay's memory.
There are a few songs available over at Pitchfork,
and I gotta say, they're comforting to hear. Jay wasn't really a master lyricist, but his sense of arrangement and production was second to none. The songs are cut from the same production cloth as those from
Summerteeth
and
Yankee Hotel Foxtrot
. Even the layperson could hear the similarities.
Call me a sentimental fool, but I still miss Jay everytime I hear he and Tweedy singing together on the verses of "She's a Jar":