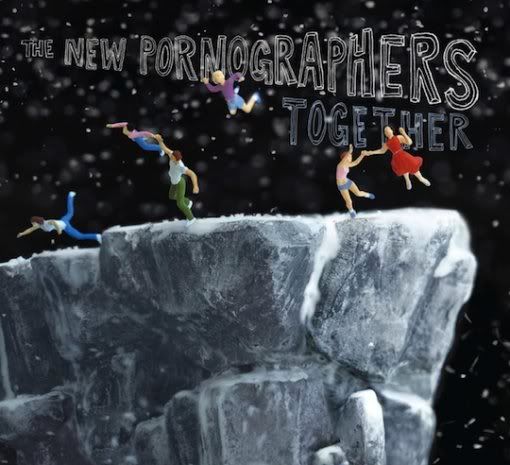 Together


The New Pornographers

While it's easy to lump The New Pornographers in with fellow Canadian ensemble Broken Social Scene, they are by no means clones. TNPs aren't the studio rats BSS are, relying heavily on full-band synergy and quirky vocal turns. They also boast the best singer of either group, that being the inimitable Neko Case. Argue if you must, but I won't hear you over Ms. Case's sonic-caramel vocals.
I know it's lazy comparing them with BSS ad nauseam, but it seems to me like an adequate barometer, since the band's differences are only highlighted by their similarities. For instance, where BSS will often exhibit hushed vocals settled nicely in the mix, TNPs generally favor an upfront vocals attack. This is immediately evident on
Together
, in opener "Moves". It's followed in similar fashion by the fiercely addictive "Crash Years", its Case-lead vocal attack rising and falling with lush melodic grace. This archetype is reprised later in "Sweet Talk, Sweet Talk", "Up In the Dark" and "My Shepard", the latter sounding more like a Neko Case solo track than any other on the album.
"Your Hands (Together)" begs for a hockey team's enlistment as pump-up music, with its Sportscenter build and full-on choral attack. I'm not particularly enamored with it, however, and was sort of surprised it was chosen as a lead single. Regardless, the rest of the album manages to play up the bands quirks without giving into hokey indulgences. For instance, the foppish "Silver Jenny Dollar" which campily nods to late-60s London mod, and fuzz-poppy "If You Can't See My Mirrors", both featuring Dan Bejar on vocals.
In a final parallel to BSS, both bands went with comfort-food for their album's penultimate track. I recently wrote about the 70s-rock throwdown "Water In Hell" on
Forgiveness Rock Record
. TNP's took the soulful pop-rock route with "Daughter Of Sorrow", a rousing waltz with the kind of uplifting melodies and instrumentation that might inspire lighters to ignite and beermugs to sway in a celebratory toast. I'm actually surprised it wasn't the record's closing track. If I was in charge of sequencing, I might have swapped the album-closing "We End Up Together" with its predecessor, but it's not a dealbreaker.
Pros:
Rich songwriting throughout and, of course, Neko Case. All three primary singles have distinct vocal styles, yet it never seems like three separate bands.
Cons:
A tad musically repetitious at times, and "Your Hands (Together)" seems incongruent with the rest of the album.