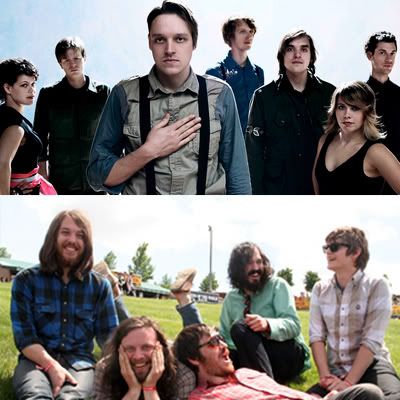 We're nearly halfway through this year and, I have to say, I'm rather floored by the amount of quality new music that's been released thus far. Who says music is dead? Our fourth annual "Halfway Through the Year Awards" will shed some light on that--look for it at the end of the month--but suffice to say, I've had no shortage of freshly pressed music with which to flood my ears.
If you're harboring any thoughts that Q3/Q4 of 2010 will be comparatively lackluster, I have two pretty hefty arguments against them:
1. The Arcade Fire has announced its third album,
The Suburbs
. It'll drop on August 3rd.
2. While there's been no official announcement, the Fleet Foxes posted this picture on their Facebook page:
Call me crazy, but that looks a lot like a finished album.
So it looks like the bands responsible for two of the 00's most immaculate debuts are poised to release new LPs. Man, that sentence goes down smooth! Relative to this blog: the Fleet Foxes eponymous debut was my
top album of 2008
, and the Arcade Fire's
Funeral
was
hastily named 5th best album of the decade
(in retrospect, the Fleets should have made that list too.) So you understand my excitement.
Anyway, hope that starts off your June on the right foot.