The following has nothing to do with music. But since everyone involved with this blog holds a degree from the University of South Carolina; and since I'm a diehard baseball fan; I think a little topical write-up is in order.
***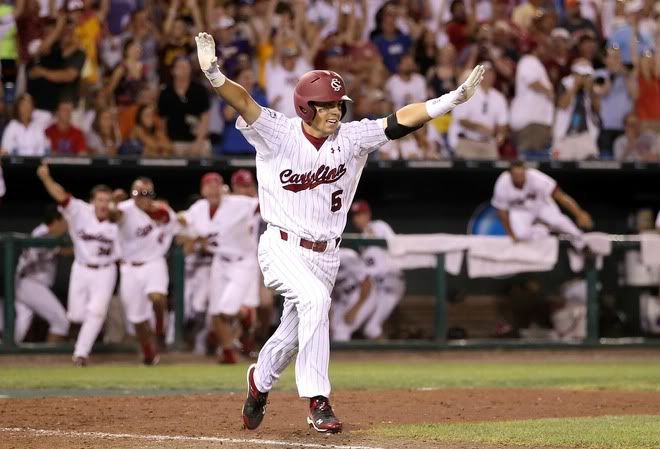 Last night, the South Carolina Gamecocks capped off a mindblowing run and took home the College World Series title, earning the school its first major National Championship.
While the University of South Carolina might be a school known for athletics, it certainly isn't known for being
good
at them. Our football team has a rich history of flirting with greatness but ending up with failure. Our basketball team is good for an upset every now and then (see last year's Kentucky game), but they're rarely a threat. Baseball, however, is a different story. We're considered a top tier team. We recruit far and wide. We are routinely ranked in the top ten. Yet none of that has translated to a National Championship trophy.
That is, until last night, when Whit Merrifield slapped an opposite-field single in the bottom of the 11th to drive in Scott Wingo. Walk-off, game over, season over: National Champions.
Perhaps my euphoria is difficult for some of you to grasp. And I don't mean the feeling of
winning,
mind you, but the feeling of finally breaking through. If you're a fan of Florida, Alabama, Texas, the Lakers, the Yankees, the Red Wings; winning to you is the norm. Losing is hardly tolerated, much less expected. But for the Gamecocks--aside from a few scattered bowl victories--seasons have always ended in with a loss. Sometimes that loss has occurred at the hands of Clemson, capping off a miserable 0-11 football season. Other times we've come close, but ultimately had to watch from the dugout as our opponents hoisted the College World Series trophy. Whatever the case, we've never been able to call ourselves undisputed champs. And now, we can.
I'll spare you the recap of our journey to Omaha, rebounding from the egg we laid in the SEC tournament, plowing through the opposition in both the regionals and super-regionals (ousting national seed Coastal Carolina in the process.) One of eight teams to earn a spot in the College World Series, Carolina went to Omaha as one of the sleeper-favorites. But Arizona State was the true favorite. UCLA was playing in the wake of John Wooden's death. Oklahoma is a huge program that was looking to add another trophy to its shelves. Florida and Florida State's rivalry overshadowed ours with Clemson. And TCU had the scrappy underdog tag. Neither South Carolina team fit into ESPN's storyline parameters.
Things started in dubious fashion when we lost our opener to Oklahoma, thus placing us on the brink of elimination. Now it was win four in a row, or go home. What's worse, Clemson handled #1 seed Arizona State in their opening game, which meant our life depended on eliminating the perennial powerhouse. But pressure was our magic potion, and we dismantled Arizona State. Our next game was a grudge match with Oklahoma, Clemson having defeated them in the winners' bracket. We gave up a run in the second and trailed before tying it in the eighth inning. The game would go into extras. In the top of the 12th, Oklahoma blasted a solo home run, and things looked grim. The Gamecocks were on life support. Down to our last
strike
in the bottom of the 12th, we put together a spectacular rally, pushing across both the tying and winning run.
Success was sweet, but Clemson awaited. Having won out so far, the Tigers were in a good spot. They needed one win to advance; we had to beat them twice. But in a repeat of the 2002 semifinals, the Gamecocks beat Clemson twice, eliminating our arch rivals and earning a spot in the College World Series finals. We'd face UCLA, who knocked off the scrappy TCU Horned Frogs. Since 2003, the finals have been a best two of three format. We'd have to beat two of UCLA's three aces if we wanted to take home the hardware.
The first game wasn't even close--a 7-1 Gamecocks win--but last night was a different story. UCLA's pitching was domineering, ours was holding but seemed shaky at best, and our bats were asleep. Still, in a near re-creation of the second Oklahoma game, South Carolina trailed 1-0 going into the eight inning. We'd had plenty of runners on via walks and the occasional single, but we weren't getting solid hits when we needed them. And we wouldn't until later. But in the eighth, we were just fine with an unearned run that resulted from a boot by UCLA's first baseman.
The remaining three innings were a beautiful display of pitching. Our freshman phenom closer Matt Price came in and went three excellent innings, most notably getting out of a bases-loaded jam in the ninth by way of a brilliant strike-out. But Carolina had no answer; UCLA's closer was equally as impressive, blowing away batter after batter (including Jackie Bradley, Jr., who spoiled his 22-game hit streak by posting an 0-5 line.) But in the bottom of the 12th, Scott Wingo led off with a walk. Wingo, to that point, had played a pretty terrible College World Series. He'd made several errors and was hitting well below .200. Suffice to say, he needed to contribute. Wingo took second on a wild pitch, and made it to third on a ground out. That brought to the plate right-fielder Whit Merrifield--with whom Wingo had collided in the second Clemson game. And as soon as Merrifield connected, there was no question. It was a clean hit down the right field line. Wingo scored, and the celebration began.
It was a magical run for the Gamecocks. Not a miracle run, mind you--the Gamecocks were an exceptionally talented team. But six straight wins, two against the rival (note: this also gave USC a 3-2 season series win over Clemson), comebacks, walk-offs, unlikely heroes: This championship run had it all. Not to mention this was Rosenblatt Stadium's final game after 62 years of service. Not only did we win the title, but we own a piece of history.
But I must say, the finals were marred by ESPN's unabashed UCLA bias. Throughout the last game, ESPN repeatedly cut to Trevor Bauer, one of UCLA's hotshot starters, lavishing praise upon the wily young fireballer with the sun-bleached hat. "Oooh, he's ready for South Carolina tomorrow!" "He'll be ready to pitch today if UCLA needs him!" Not an inning went by without Frank Patrick, Orel Herscheiser, or Robin Ventura trumping up Bauer (never once mentioning Sam Dyson, Carolina's senior starter who would have gone on Wednesday.)
And guess what? Bauer never threw a pitch. He watched dejected from the bullpen as Wingo crossed home plate and UCLA's title hopes went up in smoke. I don't mean to make light of Bauer's situation; he's a good player. But I just love it when ESPN's sensationalism is for naught. Sorry your "John Wooden inspires men's baseball team" montage will go to waste. Now stop being such self-aware jackasses, and also stop injecting promos for crappy movies into Sportscenter.
Anyway, I won't let that pathetic excuse for a pressbox sully an otherwise unforgettable run. Congratulations Gamecocks. You've validated many years of stress and letdowns. I should also commend Clemson fans, who by and large were rooting for the Gamecocks to take one home for the state. Again, both teams were virtually ignored by ESPN's production team--our rivalry was criminally under-emphasized--so hopefully we'll get some increased attention next summer.
Since I feel I should at least attempt to tie in some music, I give you the Gamecocks' most well-known music-makers: