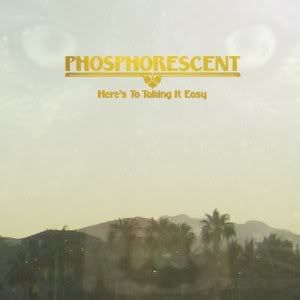 UPDATE:
The van and gear have been recovered! So disregard all the stuff about donating, but don't disregard the "buy the record" part, because it's really good.
****
I'm not naive; I know this isn't a hotbed of internet activity, no cluttered vein of web traffic. But when it comes to a story like this, any amount of exposure helps.
Phosphorescent, the alt-country act whose album
Here's to Taking It Easy
was named our
top album of the first half of 2010
, was recently the victim of robbery. Thieves made off with the band's van, containing $40,000 worth of gear. This included some really impressive guitars, including a 1955 Gibson ES-125 Hollowbody Electric, which ain't exactly inexpensive.
Just plain sucks for the band, who was just kicking off its national tour when this happened.
They've set up a Paypal account
where fans can donate a few bucks to help the boys replace some equipment. They're also keeping an eye on local Craigslist postings hoping to spot their gear.
So buy the album, throw some cash in the Paypal account, and if you're in the Northeast, have a look at your local Craigslist and see if anything looks fishy.