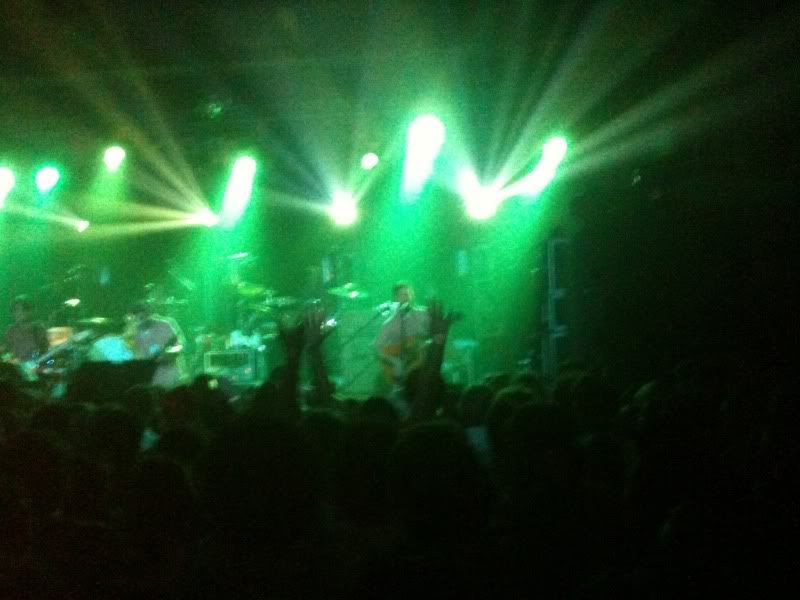 Modest Mouse
w/Morning Teleportation
The Music Farm (Charleston, SC)
July 20, 2010


The buzz was palpable for this one. In the weeks leading up Modest Mouse's stop in Charleston, I think I talked to more people who
couldn't
find tickets than people who were going. Scalpers were littering Craigslist, offering up tickets for hundreds of dollars to anyone desperate enough to shell it out. Indeed, the Music Farm was packed to the gills on Tuesday, bodies lining all the balconies and pressed up against the back walls. The main pit was a stew of writhing, sweaty humanity, all aslosh with anticipation of one of its generations' most celebrated acts.
I made the gig about ten minutes before the band took the stage. Missing the opening act isn't something I make a habit of, but tonight it was justified by the brutal temperature inside the venue. I claimed the first bit of daylight I saw in the pit--a spot about 13 heads from the stage, nothing spectacular. But as chance would have it, I was on a line with fiery frontman Isaac Brock.
Anyone who knows Modest Mouse equates their sound with certain musical quirks: Metallic harmonics, wiggly notes, quasi-disco beats, explosive codas, trippy reverb/delay, frenzied violin pulls. But most prominently, the band is defined by Isaac Brock's unique singing style. It's a vaguely melodic shout that can go from a throaty bark to a tinny whimper in a single breath. He spits his lyrics with ravenous force, his head shaking like a jackal tearing off a hunk of flesh. Lyrics like "Aw, fuck it I guess we lost," from "Parting of the Sensory" were roared with such fervor that it could have been audible blocks away. Incidentally, "Parting" took Song of the Night honors in my book--not surprising since
I've gone on record
as saying it's a favorite of mine.
On to the songs: First of all, I confess that my knowledge of Modest Mouse's catalog ranges from keen to non-existent, mostly falling somewhere in the middle. I hold
The Moon and Antarctica
in the highest regard, and from there it gets a bit patchier. What I'm getting at here is this wasn't one of those shows where I could identify most songs from the onset. Some I figured out when the chorus rolled around; some I didn't know at all. But that didn't hinder my appreciation of the well-rounded setlist. We heard offerings from each of their last four LPs, including four from 2007's
We Were Dead Before the Ship Even Sank
.
Highlights for me were the aforementioned "Parting of the Sensory", as well as all three
TM&A
offerings. "Paper Thin Walls" followed by "Tiny Cities Made of Ashes" was a blistering close to the main set, and the opening strains "Gravity Rides Everything" were maniacally greeted. How I longed to hear "Dark Center of the Universe" or "Third Planet", but unfortunately it wasn't to be. Radio hits "Dashboard" and "Float On" were played, and not even the most snobbish fan could fight back the urge to singing along. It was nice to hear some
Lonesome Crowded West
stuff too, although it's been ages since I've given that album any attention. Time for a revisit!
The band was tight and loud, the dual-drummer attack no doubt playing a part. The thudding bass drums probably shook liquor bottles in bars within a block radius. But as raucous as they were, I do think it seemed a bit routine. Their routine, mind you, is pretty damned impressive. But still, I couldn't help but think that was just another night on the job for Isaac and crew. He reminded me of a skilled artisan or something, an expert at a demanding craft who by now finds little challenge in doing something most others aren't capable of. There was minimal banter, and not a lot of downtime between songs. It might have bothered me if I'd seen the band before, but as it stands, it was really more of an observation than anything.
The band closed with "Spitting Venom", the standout track from
We Were Dead
that clocks in at eight minutes plus. I wandered the five blocks to my car with a sweat-soaked shirt and ears full of tinnitus; sure signs of a successful rock show experience. Sun Kil Moon's new album,
Admiral Fell Promises
, soundtracked my ride home, the scant classical guitar-plucked ballads providing an (appropriate) contrast to the raging rock show I'd just been privy to. Did the performance exceed my expectations? I'm not sure, really. I had expectations, and they were high--so if nothing else, they were met. But I will say this: I thought my takeaway from the night would lean more towards "At least I can say I saw them" than it would "That was an unarguably fantastic performance." Thankfully, I can now claim both.
Here's the setlist and a few more photos...I never got close enough to get anything spectacular, unfortunately.
Satin In A Coffin
Dashboard
Gravity Rides Everything
Here's To Now
Trailer Trash > Perpetual Motion Machine (Tease)
Dance Hall
The View
Interstate 8
Fire It Up
Bukowski
Doin' The Cockroach
Parting Of The Sensory
Here It Comes
Satellite Skin
Float On
Paper Thin Walls
Tiny Cities Made Of Ashes
E:
Never Ending Math Equation
Invisible
Out Of Gas
Spitting Venom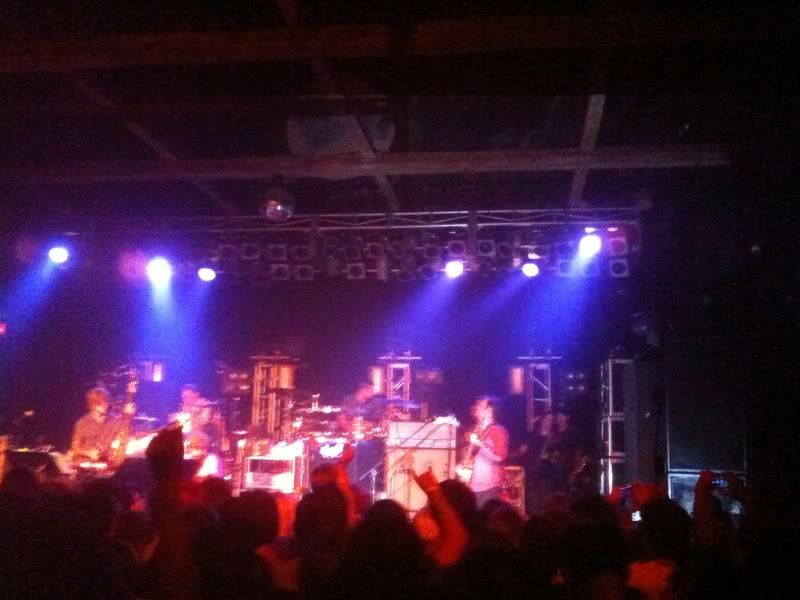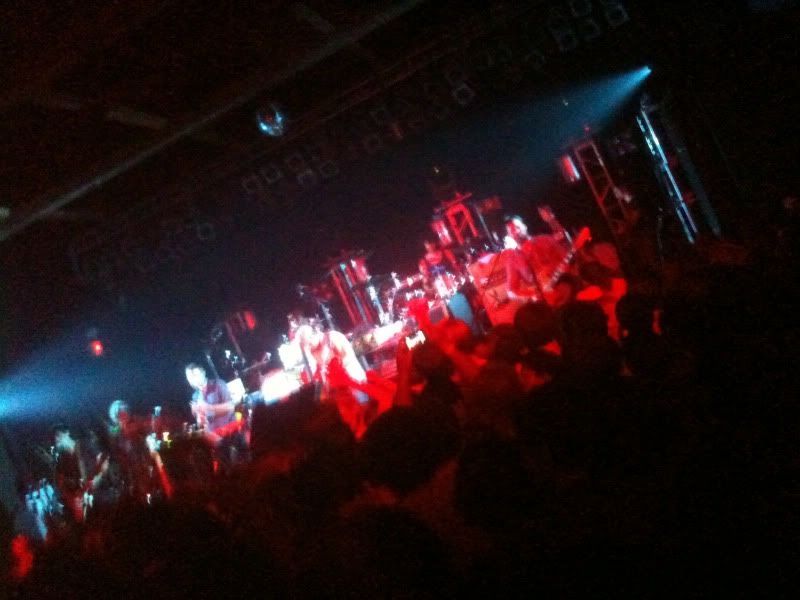 Other Music Farm reviews:
Andrew Bird