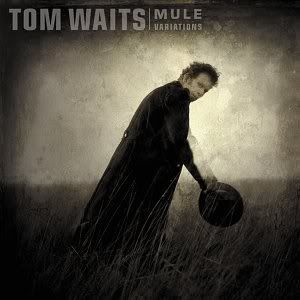 Tom Waits:

Mule Variations
I recently finished Barney Hoskyns' unauthorized Tom Waits biography,
Low Side of the Road
. In general, Hoskyns is critical of Waits' later work, preferring the skeebopping jazzbo stuff to the
Frank
trilogy of the 80's or the junkyard folk albums of the last two decades. I read more than a dash of bitterness into his analysis--Hoskyns is a Waits-camp pariah, one of many with whom Waits has disassociated himself through the years. So I chose to ignore his incessant promulgation of 1977's
Foreign Affairs
as Waits' finest moment, despite its universal recognition as one of his most mediocre efforts. I shrugged off his sour take on Waits'
Glitter and Doom
tour stop in London, which by most accounts was a triumph (
I know the Atlanta show was
).
But amidst the harsh editorial attack, I had to agree with a few assessments, most prominently this:
Mule Variations
is too damned long. At sixteen songs and roughly 70 minutes, it's a sprawling album. But those statistics aren't off-putting on their own. It's Waits' penchant for repetitious, experimental tracks that weakens the album. And I have no problem with his writing, recording, and releasing these sorts of tracks. But slotted in among
Mule Varations'
twisted Americana cuts, they seem out of place, like skateboarders in the Wild West or something. Of course, that's just the sort of ill-fitting juxtaposition that likely resonates with Tom Waits, but I still say it harms the album's aesthetic. Let's go through the tracks and see what works and what doesn't:
The Track List:
"Big in Japan"

- A rare miss for an opening track, I don't think "Big in Japan" lends much to the album from a thematic sense. It's prototypical James Brown funk, and Waits' vocal delivery that becomes increasingly nasal throughout the track. The lyrics aren't especially interesting or creative, and seem to make light of the dubious honor of finding success with a Japanese audience despite lacking a certain je ne sais quoi that it takes to thrive in western markets. I'd have expected it to see it on the "Brawlers" disc of

Orphans

before seeing it on Waits' finest latter-day release.

"Lowside of the Road"

- Probably should have been the opening track, reminiscent of the sinister establishing-act "Underground" from

Swordfishtrombones.

"Hold On"

- Would you omit a Grammy-nominated track? Not in this case, anyway.

"Get Behind the Mule"

- Another of Waits' dark-folk turns, definitely keeping it.

"House Where Nobody Lives"

- A bluesy, major-chord ballad with a message that resonates, it surely belongs.

"Cold Water"

- No doubt about it, the hobo anthem "Cold Water" stays.

"Pony"

- A soothing, hobo-centric complement to "Cold Water", one of Waits' more throat-lump inducers; surely a keeper.

"What's He Building?"

- Like "Big in Japan", I'd have expected this eerily-delivered poem to appear on

Orphans.

And yet, I wouldn't strike it from

Mule Variations.

It lends the album some character, an anachronistic foil to the blood and dust aesthetic that dominates otherwise.

"Black Market Baby"

- To me, the album's weakest song. It's a loping, baleful dirge with OK-at-best lyrics. It often feels like an afterthought, a second-rate "Clap Hands", and at five minutes, seems interminable. Most would be lucky to write a tune like this; for Tom, it's a throwaway.

"Eyeball Kid"

- I get the feeling it's one of Tom's own favorites; I'm on the fence with keeping it. A song about a freak isn't out of place on the album, but it certainly favors the 'experimental' end of the spectrum. Overall, my edits to the album favor the faint-glowing ballads in lieu of the hyperactive romps; therefore, I'd cage "Eyeball Kid".

"Picture in a Frame"

- Nothing wrong with this sweet little number.

"Chocolate Jesus"

- Not my favorite Waits song, but I'd keep it for the same reason I nixed "Eyeball Kid"; it's nicely restrained, quirky but menacing, and provides the slight mood-uptick that the album's latter half needs.

"Georgia Lee"

- A heart-wrenching murder-ballad, perfectly in line with the morbid themes that continue throughout the course of Mule Variations.

"Filipino Box Spring Hog"

- Wouldn't waste a second kicking this hog to the curb. It's an entertaining composition, but a bit too goofy to warrant a spot on the album.

"Take It with Me"

- One of Waits' most tender ballads, it's not going anywhere.

"Come On Up to the House"

- In his assessment of the album, Hoskyns deemed "Come On Up to the House" to be superfluous. How any true Waits fan could think the song is anything but an ideal ending to the album is mindboggling.
HSW's Amended List:
"Lowside of the Road"
"Hold On"
"Get Behind the Mule"
"House Where Nobody Lives"
"Cold Water"
"Pony"
"What's He Building?"
"Picture in a Frame"
"Chocolate Jesus"
"Georgia Lee"
"Take It with Me"
"Come On Up to the House"
As I have it here, the album would omit most of the experimental stuff and leave the listener with more doom than glitter. Heavy on balladry, there's a bit of optimism intermingling with the wounded story-song archetype that reigns supreme. This provides some satisfying contrast without wandering too far into bizarro-land.
You may have noticed that thus far, both overhauls resulted in twelve-track albums. While this is largely coincidental, I do think twelve tracks is a comfortable tally for an album. The artist isn't spread thin, nor does the listener feel shortchanged. There's adequate opportunity for thematic arcs to rise and fall, and generally the dozen-songer lends itself to palpable opening and closing movements. Will the remaining four albums of interest land at twelve tracks as well? Stay tuned and find out.
Up next: A bouquet of roses in need of pruning...