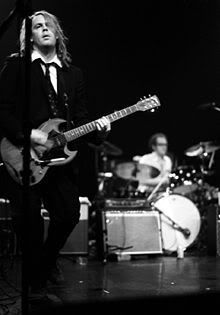 Listen to Jay Bennett's posthumously released album,
Kicking at the Perfumed Air
, and you'll hear traces of what made early Wilco such a rich listening experience. The songs are often instrument-heavy, but Bennett was such a skilled choreographer of sounds that it seems neither overwhelming nor rigid. By extension, you'll also see what Wilco's last few efforts have lacked: His attention to detail, his proclivity for gracefully dressing songs with noise (both melodic and otherwise), his talent for creating depth through production. Look no further than "Mirror Ball", which dates back to the Wilco era and was partly recorded in Wilco's Loft at that time. In my opinion it's the best track on the album by some distance; not to say there aren't some other gems that make it an enjoyable listen.
It's worth nothing that Jay's voice wasn't brilliant--he was probably be the first to admit it. His vocals probably weren't strong enough on their own to carry an act, and this might have been what was holding Jay back from a successful solo career. That said: There are some pretty affecting vocal turns on the album. "Twice A Year" is an aching mid-tempo ballad which is perfectly complemented by Jay's weathered, tobacco-scarred voice. The organic tangibility that 2006's
The Magnificent Defeat
lacked is present in droves on
Kicking
.
More than anything,
Kicking The Perfumed Air
confirms that we lost an immense talent last year. Jay was as slick a musician, arranger, and producer as there was, and we can only hope his final years were more fulfilling than we might bed led to believe. Despite his ousting from Wilco and his inability to reclaim much national attention, Bennett earned a living doing what he loved. It's more than a lot of us can say.
Download the album
here.