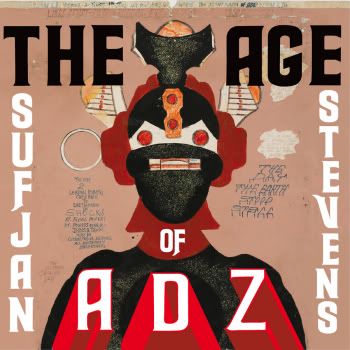 You may have noted my absence over the past week -- or maybe not, because I regularly go a week without posting -- but I assure you it was with good reason this time. I took a much-needed vacation to Colorado, where I met up with three friends (one who lives in CO) for a week of brotastic escapades. A few nice music moments ensued, including:
Playing an old piano in a rustic cabin
Blasting Local Natives while tearing through a mountain highway
Listening to

OK Computer

from start to finish, perfectly complementing the drive-time from Denver to Ft. Collins.
It was a joyous week away, but it was tough to stay on top of music news while on the run. I'm sure bits and pieces slid through the cracks, but the biggest bomb was audible from even the most desolate mountaintop: For the first time since 2005's landmark effort
Come On Feel the Illinoise!
, Sufjan Stevens is dropping a new LP*.
It's called

The Age of Adz
, and it was announced on the heels of the quickfire release of the
All Delighted People
EP. The mightily synthetic
"I Walked"
is starkly different from anything on
Illinoise
or
Seven Swans
, boasting a Beck meets
Digital Ash
Bright Eyes feel. I never disparage an artist for exploring new territory, so I'm intrigued by the redirection. Still, if this track is any indication, we're up for a lot less of the orchestral stuff and a lot more synth. Look for the new album to drop on October 12th.
In other news,
Rolling Stone
rolled out a list of 100 Greatest Beatles songs.
The top 10:
"A Day in the Life"
"I Want to Hold Your Hand"
"Strawberry Fields Forever"
"Yesterday"
"In My Life"
"Something"
"Hey Jude"
"Let It Be"
"Come Together"
"While My Guitar Gently Weeps"
Look, no internet list ever will be greeted with choruses of "Well, they nailed it!" Hordes of naysaying contrarians will cry foul, no matter how universally agreed upon the subject matter may be. Still, this is an extremely safe list that displays a cursory knowledge of Beatles music. They probably got "Day In The Life" right, and I'm glad to see George Harrison getting some love. But it just seems too surface-level and epic-friendly. How about "You've Got Hide Your Love Away" or "Blackbird"? I haven't read the whole list, but I sure hope they're not far off. And I know "I Want To Hold Your Hand" is an important song and all, but c'mon. It is not the second best Beatles song, everyone knows this.
Speaking of lists, Pitchfork is dedicating this week to its
top 200 tracks of the 1990s
. They're only through the first fifty, where I was glad to see they included the Red House Painters' "Katy Song" at #162. Still, they couldn't go without making a vaguely and ironically dismissive comment, labeling the lyrics the "shirt-rending stuff of trashy romance novels." Whatever that means. It's also a spot behind a Kelis song, which I just listened to in the interest of fairness. It wasn't bad for a hip hop song about a girl done wrong (although I can't pretend to be interested in hip-hop or songs about girls done wrong), but better than "Katy Song"? This is why lists will never matter. By the way, a question that must be asked prior to the reveal of any Pitchfork list: Who ya got for the #1 spot, Radiohead or the field? If "Paranoid Android" isn't in the top ten, I'll eat my hat...both because it deserves it, and because Pitchfork loves Radiohead more than I love a cold beer on a warm Christmas morning. /Simpsons reference
Last but not least--actually, alongside the other artists mentioned in this post it probably is least--there's a new Toro y Moi video. Devotees know that TyM is a blog-
approved
and
reviewed
chillwave act, of particular interest to us because we went to college with the guy. I hope he was as excited about the
College World Series championship as I was
.** Anyway, "Low Shoulder" is a precisely groovy track from 2010's Causers of This, and its video seems to have little to no relevance to the song itself. So if you're into creepy old waitresses, pentagrams, and unibrowed chicks licking knives, then go nuts:
That's it for now...have a great week, folks!
*

Avalanche

doesn't count since it was a rarities and extras compilation.
** I highly doubt this