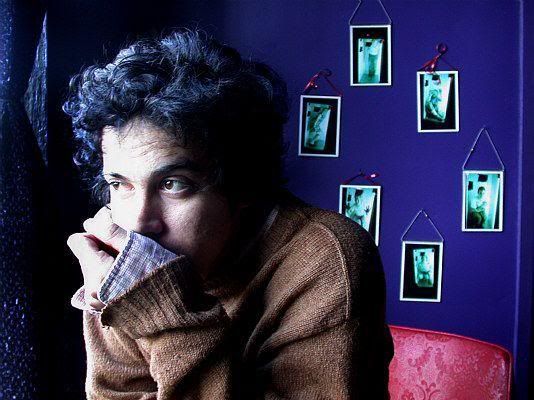 I don't know how many hardcore Led Zeppelin fans are simultaneously hardcore M. Ward fans. With Led Zeppelin we have legendary rock icons who specialized in eight minute epics and much-documented Bacchanalian exploits. M. Ward is known for his sepia-washed folk stylings and cavorting with Conor Oberst and Jim James.
But if you
do
know somethin' about both the British rock gods and the Portland-via-Cali strumsmith, and were told that
M. Ward was showing up on a Zeppelin tribute album
, what song do you think he'd be tasked with covering?
Before you hazard a guess, a hint: What appear in droves on every M. Ward album? If you guessed "finger-picked acoustic guitar instrumentals", you've just won the grand prize: this fun clown emoticon: <|:0) (copy and paste for use) Anyway, Jimmy Page was every bit the master on the acoustic as he was on the electric. In fact,
Led Zeppelin III
, which seems to be the only remaining hipster-friendly Zeppelin album, is deemed the band's acoustic turn (despite featuring a handful of Page's most blistering electric riffs).
The world would have to wait five years for one of the most impressive products of the
Zeppelin III
sessions to see the light of day. "Bron-Yr-Aur" (BRONna-Ryah) showed up on the third side of Zeppelin's much heralded sixth album,
Physical Graffiti
. The song is a brief, expertly fingerpicked instrumental piece, and the kind of thing that probably got M. Ward interested in fingerpicking in the first place.
So yes, Ward will be covering "Bron-Yr-Aur" for this sprawling Zeppelin tribute. In true indie-release form, it mostly features bands you've never heard of. I think I counted four names I recognized, including Ward, Laura Viers, and Chris Walla. But it should be worth checking out, if nothing else to shed some new light on the music of Led Zeppelin in a way that thousands of classic rock DJs fall short of with their nightly "Get the Led Out" songblock.
To the uninitiated, here's "Bron-Yr-Aur", which the keen-eared among you might have heard in
Almost Famous
. I actually played this song in my high school talent show senior year. I did not take home any hardware, because unless you were dancing/singing/popular, you needn't have bothered showing up. Ingrates.
Were I asked to contribute to the album, I'd have chosen "Down by the Seaside", which incidentally follows "Bron-Yr-Aur" on
Physical Graffiti
.