This will be a shorter write-up than the past five, because I've already covered
Mule Variations
in our Musical Surgery feature. Yes, this is Bloganese for "These write-ups take forever and I don't have the time for another right now." Hey, start paying me to do this and you'll get your full write-ups.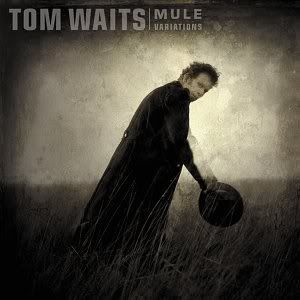 Mule Variations (1999)
In 1999, Tom released
Mule Variations
. It was his first original studio album since
Bone Machine
(1993's
Black Rider
because it was a collections of songs written for a play. #wikiplagiarism). This seven year gulf is the longest new release drought in Tom's career (rivaled only by his current six year-and-counting drought [
Orphans
doesn't count]).
But the wait for
Mule
was well worth it. It's a stunning album, littered with oddities not unlike its predecessor, but this is never a burden.
Bone Machine
was a jagged contraption, bound by a thin membrane that served as a reminder that its parts belong to the same device. Tom conveys a more unified aesthetic on
Mule
Variations
, grounding any aberrations with down-home ballads and crumbling blues shuffles. This is an album borne out of the junkyards, from underneath railroad bridges and behind the old decaying houses that loom in the rural shadows.
Mule Variations
won a Grammy for Best Contemporary Folk Album, and "Hold On" was nominated for Best Male Rock Performance. Asked his thoughts on the former, Tom--notoriously suspect of awards and labels--acknowledged that "Contemporary Folk" isn't too far off in describing his music. Agreed!
Songs to Know:
Again, I'll reference you to
the Musical Surgery piece
. But here are a few Youtube clips I'll lazily provide you, including the music video for "Hold On".
Utterly ooky spoken-word track, "What's He Building In There?" Talk about creating an atmosphere through delivery and ambient sounds:
Brilliant video for the album-closing "Come On Up to the House", featuring the world-class Waits lyric, "Come down off that cross, we could use the wood":
Waits-o-meter: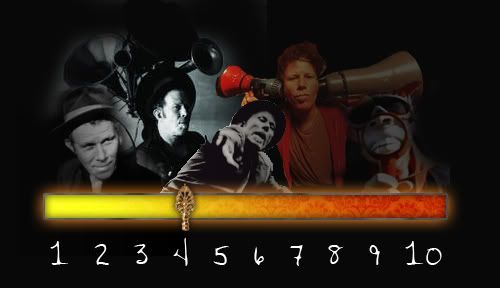 4:
There are more immediately likable tracks on
Mule Variations
than on any Waits LP since 1978's
Blue Valentine
(also worth checking out). Some of the junkyard jams like "Eyeball Kid" and "Filipino Boxspring Hog" might not sit well initially, but those are pills in the pudding as far as digestibility is concerned.
Also Check Out:
I mentioned it in the
Bone Machine
write up, but the 2006 collection entitled
Orphans
is a brilliant compilation of unreleased Waits material. Generally it's more reflective of his latter-era stuff, but there's certainly something for everyone in its three discs of material.
Up next, we conclude Waits 101.