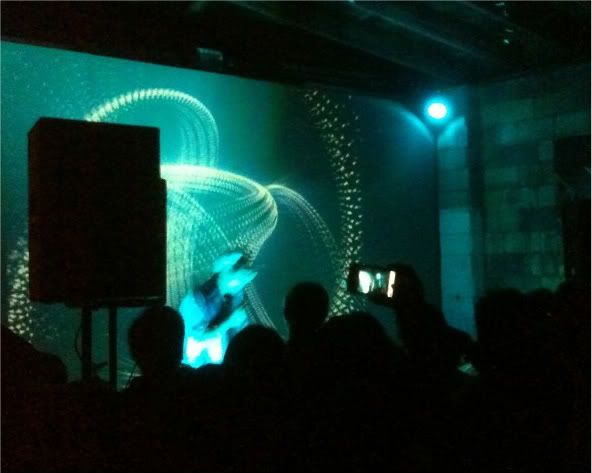 Posts this time of year generally revolve around release announcements. As I've said before, I don't want to clutter this blog with news since, let's face it, that's not why anyone comes here. But there are generally some buzzworthy announcements made at the year's end, some from artists that I blog about.
Speaking of this year nearing extinction: I've been putting a bit of thought into how I'll be able to summarize "2010 in music". I'm at a loss for a specific adjective--my interests have been all over the place, it seems--but one description that's crossed my mind is "The Year I Realized I Was Too Old To Like Every New Trend In Music." I specifically think of chillwave--quasi-electronica borne out of the bedrooms of iMac producers--that was a force this year. In fact, "chill" would seems to be a descriptor of all the hip sounds these days, whether they're actually chillwave or just spacey indie folk or hipster post-punk, and so on. The "chill" aesthetic is in. At any rate, I can take or leave a lot of it, specifically chillwave. It isn't exactly wheelhouse music for me (let's not forget I've done features about Uncle Tupelo and Tom Waits this year) but I couldn't ignore the fact that a few of the biggest buzzmakers were regionally relevant.
Most notably, I direct your attention to Chaz Bundick, aka Toro y Moi. A fellow USC grad with whom I share a lot of mutual friends
(ATTN: I have namedropped a celebrity with whom I am vaguely associated--at this time we ask that you be awestruck. Thank you - MGMT [not the band])
, Chaz's project has exploded to international acclaim. It blows my mind that this dude who used to quietly walk around campus and play in a local pop-punk band is now an internationally recognized genre defining up-and-comer. I couldn't be happier for the guy, who by all accounts is one of the nicest, most humble dudes you could know.
What I'm getting at here is that, despite the fact that I've largely shrugged off chillwave, I'm happy to hear that I'll have some new TyM tracks to take in before long. For the second consecutive February, Chaz is releasing a new LP.
Underneath the Pine
drops on February 22, and you might prepare for a more full-band sound, as I hear he's expanded his stage show. This is a good thing and something I expressed a desire to see in
my review of his Charleston show, back in April.
Here's to hoping there's no sophomore slump for Mr. Bundick--just more groovy tunes that lead me to engage in awkward whiteboy gyrations when no one else is around.