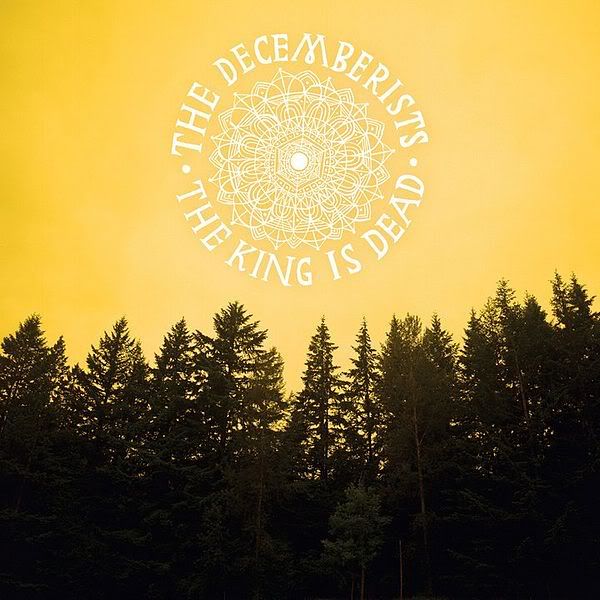 Earlier this year,
I blogged about Colin Meloy playing a few new songs to an Australian audience.
Nine months later, we were met with the
announcement of the Decemberists' next album, The King Is Dead.
Here are three reasons why I'm giddy with anticipation:
1. Scaling Back
The Decemberists, as a rule, don't make bad albums. 2009's
Hazards of Love
was good enough to land it in
HSW's top 15 of the year,
but I concluded its write-up with something of a caveat:
"I'd deem

Hazards of Love

a successful endeavor, but my hope is that the band gets back to creating vignettes as opposed to full-on movements."
Clearly Colin Meloy is an avid HSW reader, as he's taken my advice to heart. As recently reported, the D's will release
The King Is Dead
in January. Colin has suggested that the band is scaling back this time, and the new album is "going from reading a novel to reading a bunch of short stories." He went the literary route, but our metaphorical parallel is the same. This approach seems to suggest an album that's more in the vein of the earlier Decemberists LPs. This is a good thing.
2. Peter Buck
The King is Dead
has already been called "The most pastoral, rustic record they've ever made" by Rolling Stone. That already seems like a wheelhouse description as far as my tastes are concerned, but the mention of Peter Buck further boosted my anticipation level. Most well known as the guitarist for R.E.M., Buck is contributing some of his expertise to a few of the tracks on
The King Is Dead.
While this in an of itself is more of an endorsement of the band than anything, I personally welcome his involvement because he's had something of a Midas touch: He's worked on records by The Replacements, Billy Bragg, and Eels, and
produced one of my all-time favorite albums: Uncle Tupelo's March 16-20
. Needless to say, I equate the combination of Peter Buck and pastoral, rustic records with quality results.
3. Gillian Welch
Gillian provides vocals on lead single "Down By the Water". While it's her only contribution, Gillian only seems to lend her talents at the right time. She's featured on works by Old Crow Medicine Show, Steve Earle, Bright Eyes, and of course features prominently on Ryan Adams' unimpeachable debut,
Heartbreaker
. Also, there's something nifty about two of your favorite musicians--who you previously assumed were unassociated--working together. Kinda feels like they're doing it just for you...
BONUS REASON:
Tour!
Not that there is one. But, of course, there will be. Hopefully they'll come closer than Atlanta, which to my knowledge is the closest they've ever made it to Charleston. I caught them in 2006, which was particularly awesome since I was directly insinuated into the night's events
(see here for a short write-up...scroll down a bit.)
Fingers crossed that an announcement will come soon.