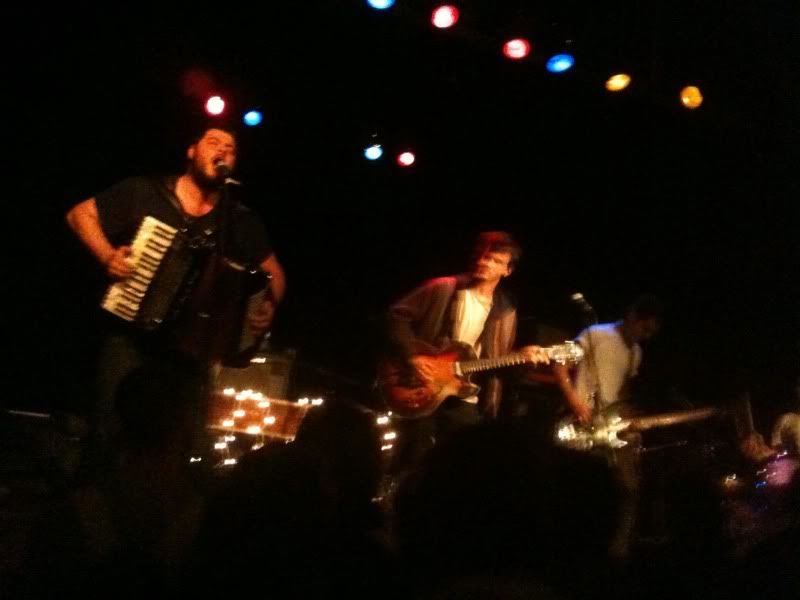 The Felice Brothers
w/Adam Stephens
The Handlebar (Greenville, SC)
November 5, 2010
Upon our arrival at the Handlebar, my friend and I were greeted by a chipper girl working the door.
"Have you guys been to The Handlebar before?"
We told her no, that we were from Charleston. Her look was one of surprise. "You came all the way from Charleston?"
Perhaps her reaction should have served as a clue as to Greenville's perception of the Felice Brothers. Judging by the turnout--or lack thereof--the Felice Brothers' drawing power in the upstate was minimal. But the same band had
filled a similarly sized venue a year ago in Charleston
. It's not like they're some unknown band, either. They've got credentials: Opening stints for Dave Matthews Band, Bright Eyes and Old Crow Medicine Show; steady festival billing; and a handful of well-received LPs. Why shouldn't the folk rockers be able to draw a few hundred folks a show--some who are willing to make a 3.5 hour trip?
Who knows. The fact remains that, by my estimation, less than a hundred warm bodies were in attendance for the Felice Brothers' stop in Greenville. Never a beerline, no problem pushing up close. These are good things. But it reflected poorly on the town, and might dissuade the band from returning--or the venue from having them back. This is a bad thing.
The opener, Adam Stephens of Two Gallants, played a particularly mundane set that didn't warrant much interest from those unfamiliar with his stuff (like me, for example.) The band didn't take long to come out, but when they did it was immediately apparent that Ian was not well. He spent most of the set gazing at his guitar. He looked tired, or distant, or strung out from the road, or something. Perhaps he was reacting to the lackluster audience. Who knows. He stepped off for a song, handing his guitar to fiddler/washboardist Greg Farley. Ian maintained his look of disinterest as slunk offstage. I wasn't entirely certain we'd see him back. He never once acknowledged the crowd--not a wave, not a thank you, not a nod. Admittedly, he sounded fine singing the likes of "Ruby Mae", "Take This Bread", and set closer "Frankie's Gun"--he even got a little fiery when roaring out "Run Chicken Run". But overall, Ian was unengaged and vacant, and it was almost a little hard to watch.
Thankfully, James Felice--the burly, bearded keys player and singer--refused to let the crowd leave disappointed. He helped the band maintain a nice pace, liberally injecting mid-song banter and exuding that down-home charisma for which the band has become known. Farley was also his usual ebullient self, wandering around the stage and gesturing in a vaguely hip-hoppish fashion. On a few songs, the band employed a drum machine--sort of an odd twist, but it's refreshing in the sense that they're not afraid to step out of their old-timey niche a bit. I don't like it when artists run in place, and while the Felice Brothers should ease into new territory for fear of scaring off their core audience, I'm glad they're doing it at all.
The song of the night was "Whiskey In My Whiskey", the James-led barroom romp that's distinguished itself as a fan favorite. It was nice to hear a charged version of "I Got What I Need", featuring just James on vocals and Ian on guitar. The song, as it appears on
Tonight At the Arizona
, is delicate and barebones, James offering wounded lyrics in a hushed quiver over a fingerpicked acoustic. But at the Handlebar, it took the form of an anthem, James belting lines and pounding his chest during the chorus of "I got what I need." We heard a few unreleased tunes, which were summarily well-received. James confirmed that their next album is currently in the mixing process. Hopefully it will see the light of day in early 2011 (that's just a guess on my part). Live staples "Helen Fry", "White Limousine", and "Lou the Welterweight" were also nice to hear.
"Katie Dear" was my favorite song from last year's
Yonder Is the Clock
(
and one of this blog's top 20 songs of the year
), but I thought it suffered a bit from Ian's lack of interest. A number of its drawn-out vocal notes came out a bit wobbly, or died prematurely. Oddly enough, the ballad stemmed out of a strange rap cover or something, featuring bassist Christmas on lead vocals. Look, I thought "Buried In Ice" was one of the best songs on
Yonder
, but Christmas doesn't really belong behind the main mic.
The set was short--sixteen songs in all. The show paled in comparison to their Charleston performance in 2009, but it's never a chore to watch a talented band play good songs. I just hope Ian has snapped out of whatever funk he was in, for the sake of future audiences.
As per usual, here's the setlist and some blurry iPhone pics:
Marlboro Man
Let Me Come Home
Ruby Mae
White Limousine
Helen Fry
Ponzi
Got What I Need
Fire At the Pageant
Lou the Welterweight
Whiskey In My Whiskey
Dance Hall (Christmas on vocals?)
Katie Dear
Take this Bread
Better Be (Farley on vocals)
Run Chicken Run
E:
Frankie's Gun