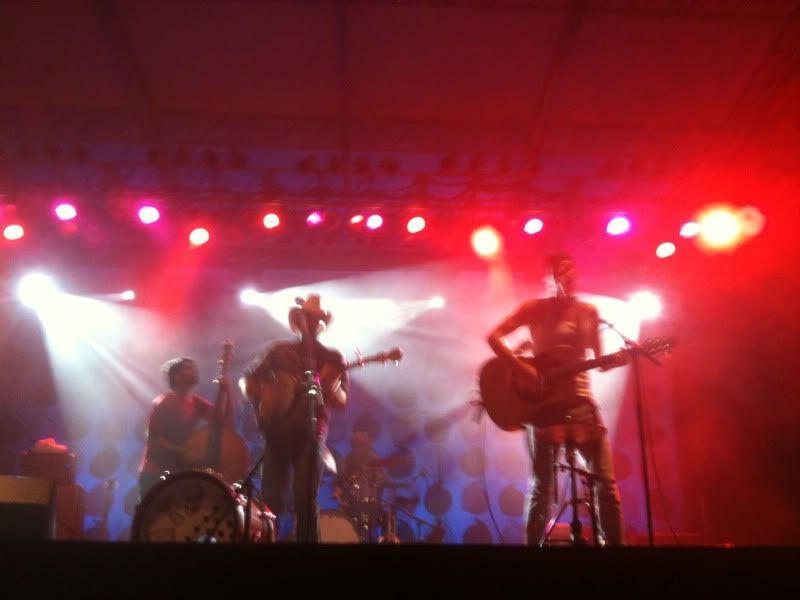 The Avett Brothers
South Carolina State Fair (Columbia, SC)
October 20, 2010
State fairs are a sensory overload, a veritable wonderland awash in colored lights, enticing aromas, and hypersalanited/sugared foods. And while the sonic element is there, it usually takes the form of shuddering steel tracks, choruses of screams, and barking carnies.
Music? It's there, but usually none-too-exciting. There's the old-school pump-organ carnival music played during carousel rides. There's the techno-pop that pumps over high-speed thrill rides. There are performers, too. Usually country bands whose demographic appeal is shared by, say, pig races and jam contests.
That's why I was just as surprised as any to hear that the Avett Brothers were playing the South Carolina State Fair in Columbia. Sure, they have that hayseed element (or at least they used to--thanks
a lot,
I and Love and You
) but they're hardly an unconditional country band. It was easy to spot the Avett fans milling about the fairgrounds. There were the alt-country hipsters, clad in tight jeans and snap shirts but betrayed by their scruffy jawlines and black-rim glasses (guilty). There was the hipster contingency; skinny-jeans and ironic t-shirts on proud display. The prep crowd showed up, straight outta the frat house and into the grandstand area. And, like any fanbase worth its salt, there were the band emulators--in the Avetts' case, stick-thin beardos sporting undershirts, aviators and bandanas wrapped around their foreheads. All these types speckled the rivers of fairgoers, and it was apparent that tonight's performers weren't your everyday state fair act.
It isn't such a stretch, I suppose. The band has the reputation of road warriors, and it seems like state fairs are a right of passage for many bands. I guess it's just surprising they hadn't already played a fair. According to Scott, "The North Carolina State Fair never invited us!" So here they were, treading the boards of a state fair for the first time--not long after playing Radio City Music Hall, and having played virtually every indie rock Mecca in the country. But humility is a key ingredient to the Avetts' appeal, so it never did it seem undignified for the band to be jamming a hundred yards from the tilt-a-whirl.
We couldn't have asked for a better night to see an outdoor show. Rain was forecasted, but it stayed clear and cool. A full moon rose in the eastern sky. The stage was backdropped by Williams-Brice Stadium, home to my beloved South Carolina Gamecocks. And what's better: I had the pleasure of watching it all from a front-row, center seat. The band was set back a bit--I couldn't have grabbed Scott's ankle or anything--but obviously, it yielded quite an intimate view for my party and me.
Despite these immaculate conditions, the show was just average by the Avetts' standards (Translation: Twice as good as anyone else's best show. That's a bit of a hyperbole, but make no mistake, an average Avetts show is still something to write home about.) Perhaps it was due to the sedated crowd, but it wasn't the overdriven experience I'm used to. The band played a few songs at a slower-than-normal pace, specifically "Salina", "And It Spread", and "I Would Be Sad". "Traveling Song" was played in half-time--sped up for instrumental bridges, but then slowed down again. It was an interesting take, but I think it's a song that's best suited for a frenzied tempo. The set was heavy on
I and Love and You
material, including set opener "Tin Man". Admittedly, I was won over by "Slight Figure of Speech", whose album version I'm not particularly crazy about. "Laundry Room" is a certified classic by now, and is a track made for outdoor performances.
Scott played a stellar version of "Murder and the City" (Seth was there for harmony support). Unfortunately, was sullied by the 50-year-old behind me who insisted on a full-volume cellphone conversation for most of the song. Song of the night honors for "Colorshow", which never fails to deliver in a live setting. The Avetts weren't shy about screaming the verses, either--I imagine passing fairgoers must have found it abit jarring. "Down With the Shine", an unreleased track that actually post-dates
I and Love and You
, was on my wishlist, so it was nice to hear that early on. I hoped and prayed for an appearance of "Talk on Indolence"--if nothing else, for the purpose of stirring up the largely docile crowd--but we never heard it. The two-song encore consisted of "Shame" and "Die, Die, Die"--irrespectively the first two tracks on
Emotionalism
. It was a nice way to end the concert, with two wheelhouse tracks.
Crowd notwithstanding, it was a fine show. The lack of energy was fine, really. It was befitting of the environment--state fairs are exciting, sure, but not in a moshpit kind of way. They provide self-paced entertainment, and I don't think the bands are meant to overshadow that. The Avetts were conscious of their surroundings, and that might have meant scaling it down a bit. Who knows. The point remains that it's an experience I'll never forget--even if I won't be able to recall every little detail about every song (although, quick mention: Joe Kwon broke a cello string at one point and was forced to hastily restring. Did it like a pro, in time for his next cue.) But the point is that in five years, I'll be able to say that I was front-row, center when the Avetts played the State Fair. Not a bad recollection, if you ask me.
Set list and blurrier-than-usual iPhone photography:
Tin Man
Salina
Paranoia In B Flat Minor
Roll In My Sweet Baby's Arms
Down With the Shine
Head Full of Doubt/Road Full of Promise
Pretty Girl at Cedar Lane
The Fall
Murder In the City
Old Joe Clark
January Wedding
I Would Be Sad
And It Spread
Colorshow
Traveling Song
Laundry Room
Slight Figure of Speech
Kick Drum Heart
I and Love and You
Blue Ridge Mountain Blues
E:
Shame
Die, Die, Die