Band of Horses
w/Jenny and Johnny
North Charleston Performing Arts Center (Charleston, SC)
October 29, 2010
Never skip the opener. You never know who will provide bragging rights down the road. For instance, back in the summer of 2005, I saw Iron & Wine play the Music Farm here in Charleston. Before the show, my good friend and HSW contributor Thomas said, "Watch the opener. They're gonna be big." It's natural to react skeptically to those sorts of declarations, but Thomas knows his stuff, so I watched the opener closely amongst the thin early crowd. The lead singer was this skinny, pale dude with a beard. His arms were covered in tats. He sat behind a pedal steel guitar for a few songs, never doing much more than raking strums while sweeping the slide down the neck. I remember an excellent song about the Great Salt Lake. They closed with an ELO cover. They seemed a bit high. All in all, I was very impressed, but it'd be a year before Band of Horses released
Everything All The Time
. It remains one of my all-time favorite albums--one that will be forever linked with my college heyday.
Meanwhile, Band of Horses has blown up. Today's BOH is completely overhauled--lead singer Ben Bridwell is the only original member--but they still thrive on soaring indie-rock epics, thanks in no small part to Bridwell's golden pipes. But at any rate, they're an inspiration. Rising from the ashes of cult indie-outfit Carissa's Wierd, they've gone from sparsely-attended opening gigs to mainstages at sprawling festivals. Major label record deals, late-night performances, world tours...the whole bit. They even opened for Pearl Jam on this last tour. Bridwell provided Chris Cornell's vocal part to "I'm Going Hungry".
As unbelievable as it is to me, I get the sense that Bridwell is even more humbled and shocked by the band's rapid ascent. Onstage, he's loose and unpretentious. He's slightly self-deprecating too, calling out his own missteps and laughing at a botched lyric or flubbed note. It has the feel of a house show, where he's surrounded by his buddies who'd laugh along with him.
But perhaps this isn't the case everywhere. I've only seen BOH in two cities: Charleston and Columbia. Bridwell grew up in a suburb of Columbia, and currently lives outside of Charleston. Maybe Ben is more aware of his audience, chock full of acquaintances, and feels silly playing the rock star. One day I'll see them outside of the South, and then I'll be able to make an educated assessment. Until then...
I spent all Friday in the grip of toil, as my company was staging a two-day marketing convention. I was up before 6 a.m., and wasn't able to leave the grounds til after 8 p.m. This meant two things: Flirting with the show's start, and a tremendous amount of fatigue. Miraculously, the lady and I arrived at the venue in time to catch most of the opening act.
Jenny Lewis and all her various projects--Rilo Kiley, the Watson Twins, solo work--never commanded my interest. In fact, her "Jenny and Johnny" project with boyfriend and lucky son of a bitch Johnathan Rice, has actually garnered more of my interest than anything prior. Their album,
I'm Having Fun Now,
is better than I would have expected. So it was a treat to hear some of the songs live. Both Lewis and Rice are brilliant vocalists, and Rice actually reminded me of a young Ryan Adams onstage (Rice is only 27).
When BOH emerged, Ben Bridwell walked his toddler daughter--dressed for Halloween as a ladybug--on stage with him. She spent the first song--
Infinite Arms
standout "For Annabelle" (his daughter's name)--in Bridwell's arms, a pair of noise-cancelling headphones sparing her any premature hearing-loss. Throughout the night, gigantic projections, mostly of nature scenes, backdropped the band. I especially enjoyed the "For Annabelle" projection: looping footage of a silhouetted stag slowly walking against the glowing horizon.
The show covered a lot of ground, evenly spread between the band's three LPs. Literally. The band culled seven songs from each album. "First Song" from
Everything All the Time
is always a highlight for me. I didn't have to wait long for it either, as it was played second. The
Infinite Arms
tracks landed for the most part. Speedy rocker "NW Apt." featured signature Bridwell vocal inflections on the chorus: "Northwest Apartmeeyeeeent!" The encore led-off with guitarist Tyler Ramsey's
Infinite Arms
contribution "Evening Kitchen" (I wasn't the only one a tad disappointed that the emergence of an acoustic guitar didn't lead to a rare performance of "St. Augustine"--a track written by former member Matt Brooke, which suggests it's unlikely a BOH crowd will ever hear it). Bridwell made light of the bromantic nature of the performance, crooning his high harmonies lovingly at Ramsey, then punctuating the song with a loving embrace. "Older", a track penned by instrumentalist Ryan Monroe, sounds 500 times better live than it does on record.
The older songs already sound like classics. We heard the epics like "Great Salt Lake" and "The Funeral"; the soaring ballads like "Marry Song" and "No One's Gonna Love You"; and feelgood rockers like "Weed Party" and "The General Specific". On "The Funeral", Ben displayed some of that transparency and self-deprecation. His Les Paul apparently out of commission, he was given a Fender Telecaster, which prompted him to nervously mention, "This is the first time I've ever played this song on a different guitar." Later in the song, after flubbing a note, he chuckled "Jesus, this is hard on this guitar." Sure, it sucked a bit of the intensity out of such an unflinching rager, but it was still endearing.
Song of the night honors go to "Part One", a barebones ballad from
Everything All the Time
. I'd heard this one live at least once before, and it wasn't a particularly effusive performance. It sort of lingered in a semi-acoustic no-man's-land and struggled to take flight. However, the band has wisely decided to put a charge in the song, repackaging it as a fully electric affair. It really brought the house down.
The night closed on an interesting--and slightly pathetic, for one fan--note. Prior to the night's final song, Bridwell, an unabashed Georgia Bulldogs fan, addressed the crowd thusly: "I bet there are a lot of South Carolina Gamecocks fans here tonight. (applause) Any Georgia Bulldogs fans? (mix of applause and boos). Hey, don't boo, y'all need our help tomorrow!" Let me explain: The next day, Georgia would be playing Florida. A Georgia win meant that South Carolina would be a step closer to winning the conference division championship. Anyway, the band had recently released a cover of "Georgia" by Cee-Lo Green. Bridwell explained that the Bulldogs hadn't lost since the release, so they felt it was a fitting way to close the show. The performance--backed by projections of the Georgia marching band and mascot--was excellent, and the crowd erupted.
The band left the stage, the house lights went up, and the rows began to clear. Except for one outraged Clemson fan. The fan--a preppy guy, probably around 23--set into a profanity-laced tirade, roaring above the din, and gesturing furiously at the stage. He first chanted a rallying cry for his school, laid into the band for daring to promote Georgia, and told them to "Go the fuck back to Georgia." The only reaction the guy received were the laughs of the people around him, and he stomped off, still grumbling. It was odd. It was ridiculous. It was a pure Clemson. (Yes, I'm a biased USC fan. But c'mon--besides from the fact that Clemson is a rival of USC and has a dormant rivalry with Georgia, they had no part in the scenario in question. It was completely irrational.)
At any rate, I'm comfortable calling it the best Band of Horses show I've seen yet. It's actually the sixth time I've caught the band, moving them a tally ahead of the Avett Brothers for third place on my most-seen list (Ryan Adams and Wilco are first and second, respectively). BOH has done an excellent job adapting their sound to increasingly larger venues. But their songs weren't ever meant to be contained by small venues, nor could they be. This is music best-suited for cavernous amphitheaters and sprawling festival grounds. Band of Horses is right where they should be.
--
Tragically, I can't find a setlist for the show. I can, however, tell you exactly what songs the played. A few pictures follow.
From Everything All the Time:
The First Song
Wicked Gil
Our Swords
The Funeral
Part One
The Great Salt Lake ("There's no salt lake around here but we'll make one right now." -- BB)
Weed Party
From Cease to Begin:
Is There a Ghost
Ode to LRC
No One's Gonna Love You
The General Specific
Islands On the Coast
Marry Song
Cigarettes Wedding Bands
From Infinite Arms:
Factory
Compliments
Laredo
Evening Kitchen
Older
For Annabelle
NW Apt.
Various:
Georgia (Cee-Lo Green cover)
Just The Other Side of Nowhere (Kris Kristofferson cover)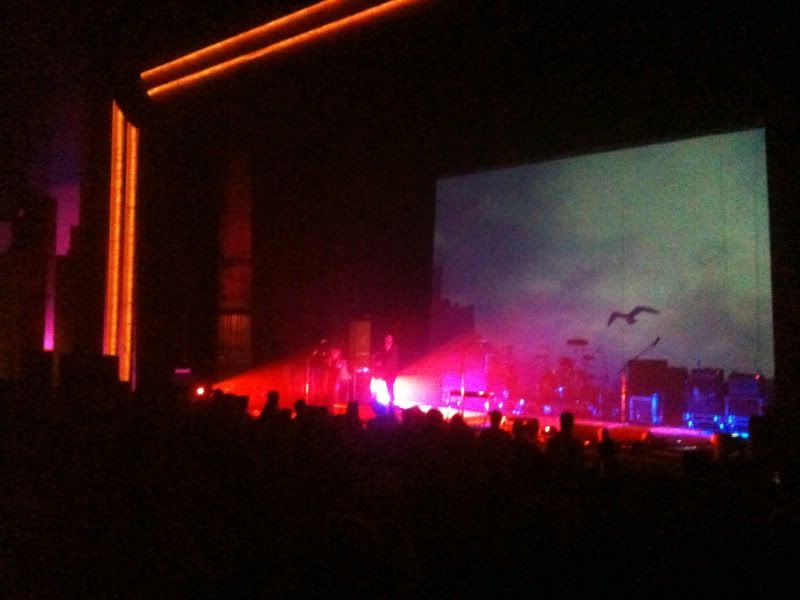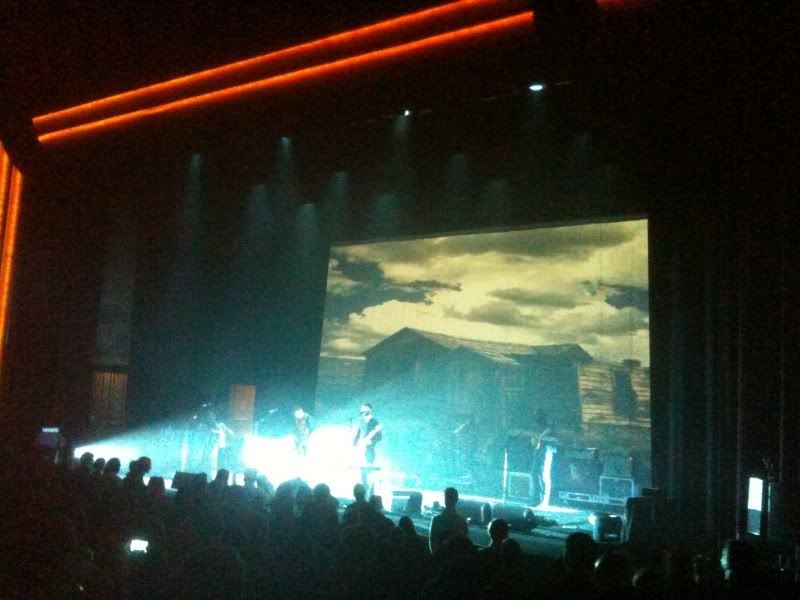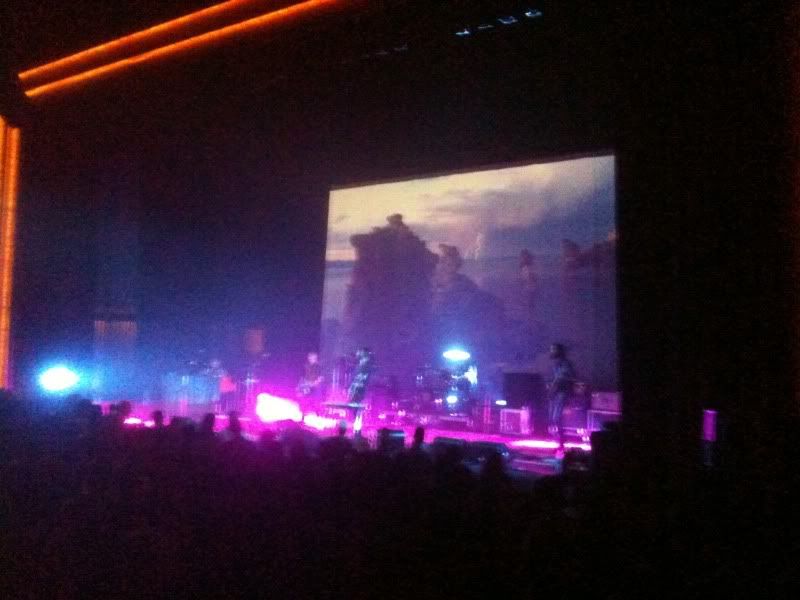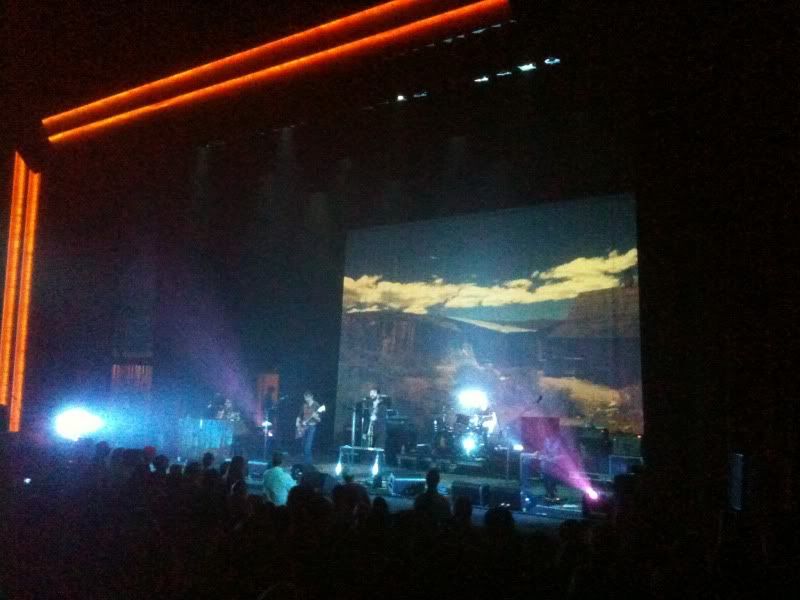 Other North Charleston Performing Arts Center Reviews:
The Avett Brothers
Ryan Adams
Old Crow Medicine Show w/Felice Brothers
Wilco w/Bon Iver