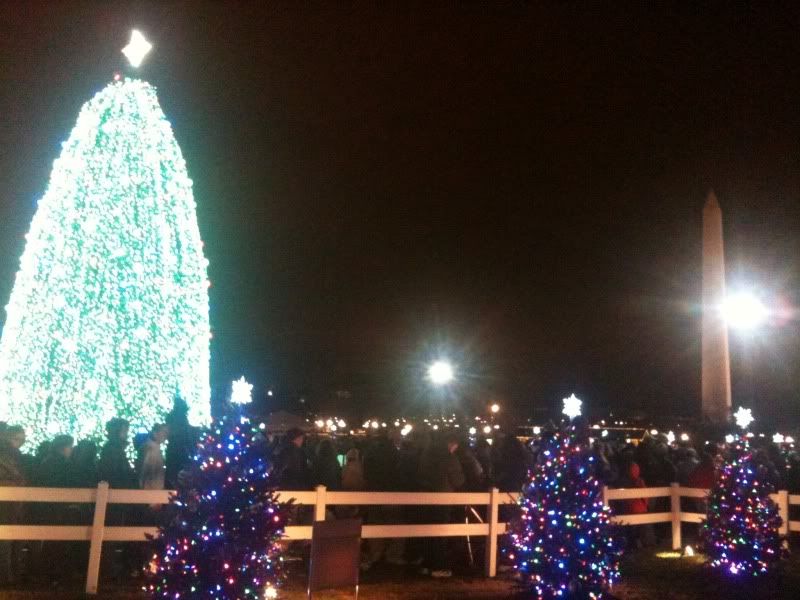 Taken a few days later, when approaching the tree didn't involve dodging laser-sights from sniper rifles.
Unfortunately for
End of 10
, I scheduled a mid-December vacation that temporarily derailed my progress. The lady and I flew up to Washington, DC to stay with some friends and enjoy our nation's capital all glittered up for Christmas. It was loads of fun, but sweet Jesus was it cold. And never was it colder than the first night, which necessitated our standing in a field for nearly three hours.
My buddy won tickets to the National Tree lighting ceremony, which took place at the Ellipse in front of White House. I figured there would be some Christmas music on tap, but I didn't realize I'd be in store for a performance from one of my favorite musicians. The event was hosted by jointly hosted by the reigning Miss America and rapper Common--who kept saying vaguely inappropriate things like "Every year it's the same hustle!" This was hilarious.
The slate of performers read very much like a young suburbanite's mix CD: Ingrid Michaelson, Sarah Bareilles, Maroon 5 and BB King.* But the real surprise was Jim James, the celebrated lead singer of My Morning Jacket.
Jim was one of the early performers. This was much appreciated, since the brutal cold had us eager to depart. The tree was lit early so the crowd could enjoy it throughout the evening's events. But it also meant a stream of departing bodies who were satisfied after seeing President Obama light the big blue spruce. Truthfully, if Jim hadn't been among the first few ensuing performers, I'd have written it off and left. But, mercifully, his number was called not long after the tree lighting. He sang a warm, understated version of "Have Yourself a Merry Little Christmas". I found it lovely, but the sprawling crowd wasn't really into it. "Who is this skull-capped, shaggy bearded stoner, anyway?" they probably thought. Not to mention, Jim had the misfortune of following young Jackie Evancho, a ten-year-old
American who has talent
who sang an unfuckingbelievable version of "O Holy Night".
Did you hear that note at 2:22? Wow. I don't even care that she's 10. I'd be blown away by a 20-, 30-, or 50-year-old singing that. Then she had some cutesy little interview which elicited a collective "BAWWWWW" from the audience. Then poor Jim had to follow all that up. He probably should have done a song that let his vocal abilities shine a bit brighter. "The First Noel", perhaps? Whatever.
He has nothing to prove as a live performer.
I'm sure he was just thankful for the opportunity.
Anyway, we stuck around long enough to see Michelle Obama botch "The Night Before Christmas", and then decided GTFO out of there lest we hear a single note of the Maroon 5 douchebag brigade. The night was a fulfilling experience with some enjoyable surprises--and actually
not the first time I'd unexpectedly seen a favorite in our nation's capital.
And most importantly, I'm now back behind my computer. Looking to get a lot of of End of 10 content up this week. Stay tuned!
*I know it isn't fair to lump BB King with those others, but obviously he's recorded some rather digestible stuff conducive to white yuppie consumption.