As far as prime spots for shows go, Charleston isn't one of them. We do OK. Most major acts hit it once every two or three tours, but since we're well off I-95, bands have to go well out of their way to swing through the Holy City. Regionally approximate cities like Atlanta, Asheville, and Charlotte are much more convenient stop-offs, so I'll often find myself having to travel to catch a band. In fact, only 6 of the 11 shows I caught this year were actually in Charleston.
If you live in New York or Asheville or Austin, you probably just snickered. You've probably seen 11 shows in the past week. Unfortunately we don't have that luxury, but it's probably a good thing, and my bank account is better for it. Also, truth be told, live music isn't my favorite thing. I enjoy it a lot, but I doubt I'd see too many more shows if the opportunities were more abundant. I guess it boils down to what you appreciate. Personally, I'd forgive a crappy live band who makes excellent records, but not vice versa. I'm sure many folks disagree.
Anyway, this year's live slate was generally comprised of favorites I've already seen several times (BOH, Avetts, Wilco, Isbell.) In fact, only two of the 11 were first time experiences: My Morning Jacket and Modest Mouse. Here's a rundown of my top 5 from the year.
(I apologize in advance for the crappy iPhone photography, but I like to try to use original photos when I can.)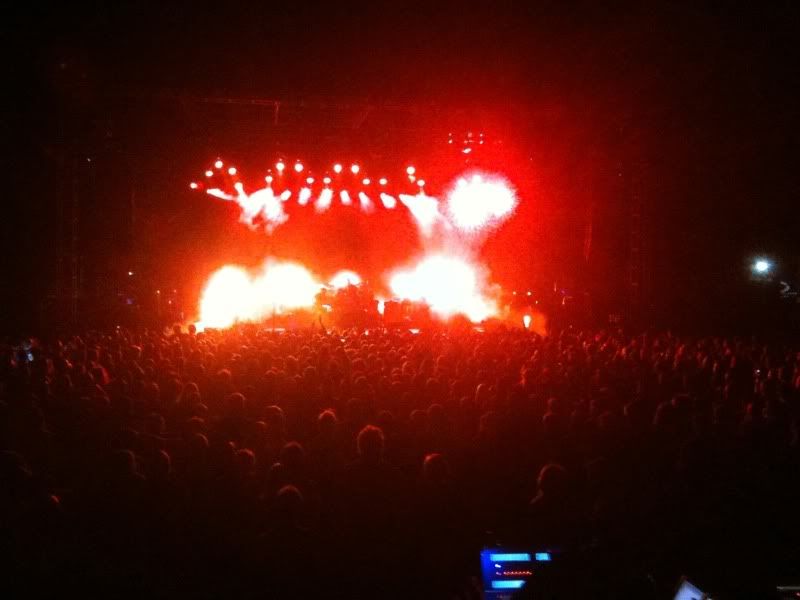 5. My Morning Jacket -- April 28; Charleston, SC (review)
I was finally able to scratch this one off my list. The boys from Louisville played to a less than capacity crowd at a tennis stadium in suburbia. I wonder if it was what they had in mind. No matter--the band raged for two hours, barrelling through selections from their past four albums, backed at times by the Preservation Hall Jazz Band.
4. Band of Horses -- October 29; Charleston, SC (review)
Hometown heroes make a grand return after touring the world for several months. Bridwell and his crew were in fine form, treating the sold-out Performing Arts Center to a southern-tinged rock show. I feel like I've watched these guys mature from a ragtag upstart into respected globetrotters.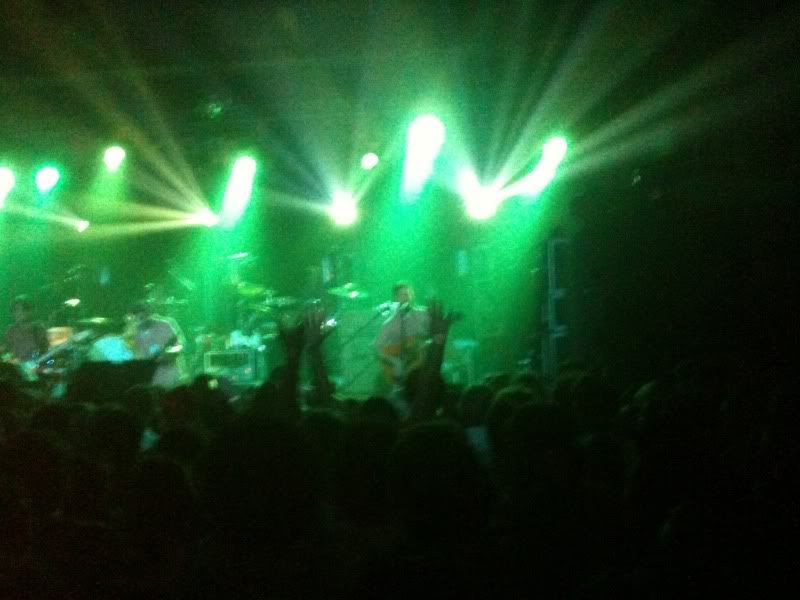 3. Modest Mouse -- July 21; Charleston, SC (review)
My appreciation for the Portland outfit came full circle when I saw them play back in July. Isaac Brock and company will squeeze the sweat from your pores with their merciless psych-rock attack. Sure, they weren't the most charismatic, bubbly group I've ever seen, but they more than make up for it with their musical prowess.
2. Avett Brothers -- June 11; Savannah, GA (review)
It was a dead heat between these last two. The Avetts' Savannah debut was worthy of top accolades--apparently it was considered one of the most memorable Avett shows by the diehards. Even if it wasn't, second row seats sure made it seem that way. One night before they took the stage at Bonnaroo, the boys played a triumphant set. Surprisingly for a band that made its name touring the Southeast, it was their first trip to Savannah. Who knew?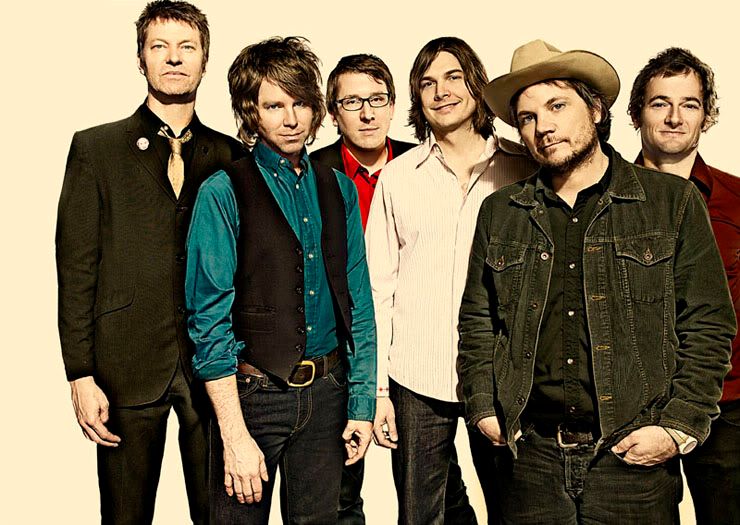 1. Wilco--March 25; Savannah, GA (review)
It was at the same venue two months earlier that I saw Wilco play the show that takes top honors this year. At first glance, it would appear that the Avetts would come out on top. For Wilco, we were more than twenty rows removed from the stage. Wilco's crowd was restless and chatty while the Avetts' crowd was fully engaged. But above all, I'm a sucker for the setlist. The Avetts' setlist was good but not great--I'd give it a solid B. Wilco--always eager to please--rolled out a marathon 34-song slate that culminated in a 4-song run of crowd pleasers that whipped even that attention-deficient crowd into a frenzy. The dice are loaded here--Wilco is my bread and butter, and any tie-breakers will go their way. Still, no one who attended would accuse me of favoritism here. (And by the way,
they went and played another 34 songs the next night.)
***
For other shows we reviewed in 2010 and years past,
visit the Live Reviews page.
Up next, I start into the posts that actually cover 2010 releases. In full disclosure, these probably won't begin to roll out until next week, as I'll be out of town for the next four days. Until then!