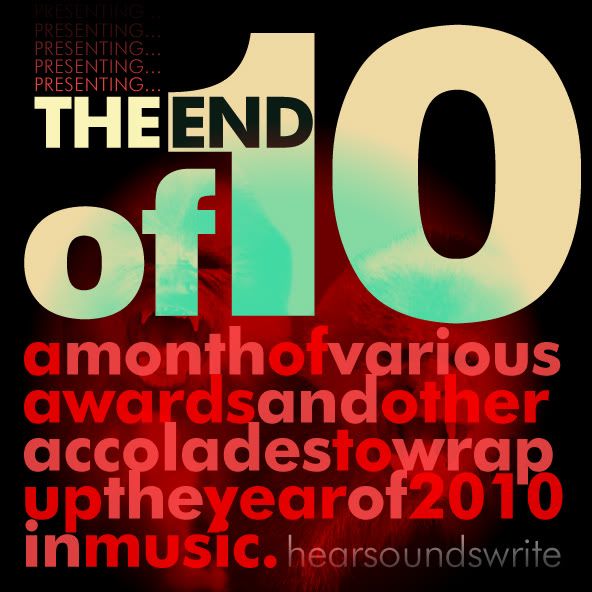 The onset of December means one thing: YEAR END LISTS! Every blog on the planet rolls out its list of top-whatever best/worst song/album and so on. Why? Because we, the American (and perhaps international) populace love lists. We love to quantify things that can't be quantified. We love neatly packaged bullet-form features that supersede the reading of unimpeded text blocks. *shudder*
Anyhow, gonna be a big month. I'll reprise all the Best of '09 lists and then add a few in the interest of providing more content. Here's how it's going to roll out:
Features In Review: A wrap-up of the features presented throughout the year
Maybe Next Year: 2010 releases I never got around to hearing.
Late As Usual: Some pre-2010 releases I finally caught up with this year.
Best Live Shows of the Year
Disappointments of the Year: A few highly anticipated albums that didn't land. Last year this was titled "Worst of 2009", but I realized that's a bit of an exaggeration considering all the mainstream shlock that's released every week.
Superlatives A: Some various accolades.
Superlatives B: Some more various accolades.
Best Songs of the Year 20-11
Best Songs of the Year 10-1
Best Albums of the Year 25-21
Best Albums of the Year 20-16
Best Albums of the Year 15-11
Best Albums of the Year 10-6
Best Albums of the Year 5-1
Best Album of the Year Poll Results
I don't know where I'm going to find the time to do all that, but I'll manage. In full disclosure, it'll probably start taking shape towards the middle of the month because I'm absolutely crushed at work right now. So get excited. For now, you can browse our
past year-end lists
to hold you over.
FINALLY: Don't forget to vote on the poll at the right!