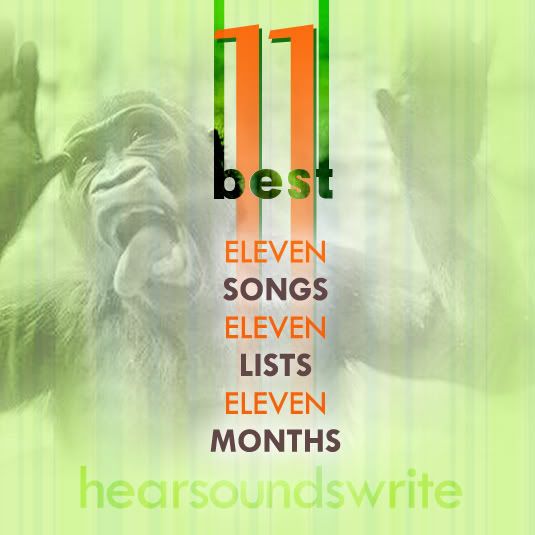 February: 11 Best Second Tracks
If any album wants my undying praise, there had better be some attention paid to sequencing. I hardly go one post without underscoring the importance of track placement in making a great album. What's more disappointing than a record where the lead single is first, and everything following is fluff? An great album ebbs and flows, rises up and settles back down, suggest a vaguely linear path down which the listener should travel. This is why I think the shuffle button is crippling our generation--I know people who acquire a new album, and never once listen to it in its intended order. This boggles my mind. What would happen if you read the chapters of a novel in the same fashion? Granted, few LPs depend on sequence in the way chapter books do; still, to disrupt an album's sequence is to dismiss a vital aspect of its production. (I know I sound like such an insufferable snob right now...I apologize. I use the shuffle too, but never when listening to a specific album.)
Most albums have strong openers, cathartic closers, definite midpoints, and so on--but the track position by which I am most intrigued is number two. Again, we all know those albums that essentially exist as a vehicle for a lead single. You may as well chisel out the part of the CD where all the rest of the songs are written (that works right?) But I contend that track #2 is of the utmost importance. Why? Because it's a tone-setter. The opening track reels you in, but the second one has to strap you to your seat and start the train chugging along. That's why it's not uncommon for the second track to be a bit uptempo--it sends the message that the journey has only just begun.
So this month is all about the 2-spot--fitting, for the second month of the year. Which #2's best leverage their placement, harness the momentum of the album opener and spin it into a sonic experience that results in a classic? We start with the honorable mentions.
The first band that comes to mind when I think of masters of sequencing is Radiohead. Their albums achieve a cinematic quality, and a big part of that is because they employ a tremendous amount of foresight when it comes to their track orders. Of course I selected one of their 2-spots for the list, but a few that deserve mentioning:
"Pyramid Song"
,
"Sit Down, Stand Up (Snakes and Ladders)"
, and let's not forget about
"Creep"
.
Dubbed the "American Radiohead", which at one time was a suitable moniker, Wilco is another band that's mastered the art of the flow. They show up in the list of course, but virtually all of their albums boast a strong second act.
"Kamera"
,
"Far Far Away"
,
"Casino Queen"
--even
"California Stars"
from
Mermaid Avenue
fits the bill.
This month's list skews heavily towards recent releases--this will probably be a trend throughout the feature--but a few notable second tracks from decades past include The Beatles' "Eleanor Rigby", Velvet Underground's
"Sweet Jane"
, Led Zeppelin's
"Babe I'm Gonna Leave You"
, Neil Young's
"Only Love Can Break Your Heart"
, and Pavement's
"Elevate Me Later"
.
A final few honorable mentions:
I had a few more jotted down, but these six stood out as particularly crucial to the overall tone of their album. With that, there's nothing left to do but roll out the list. As a reminder, I'll post 11-7, 6-2, the top spot, and finally a wrap-up. Look for it all to roll out soon.