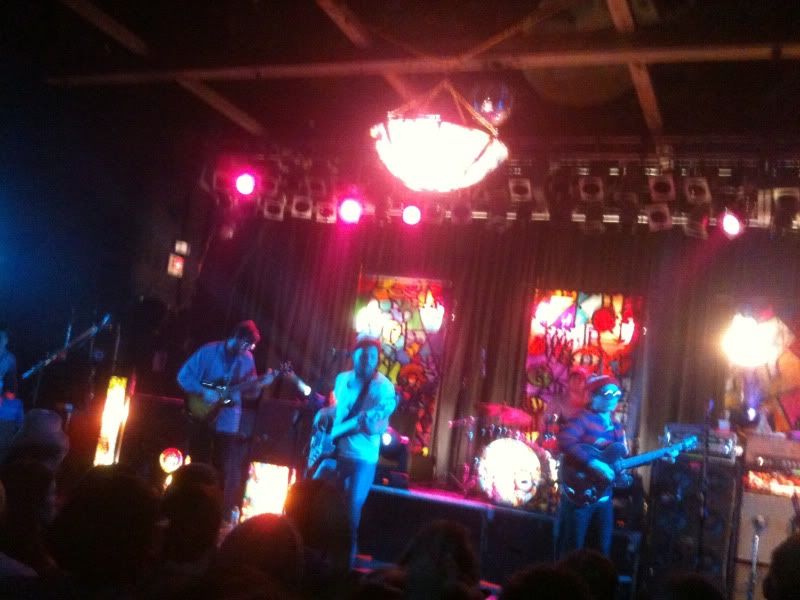 Dr. Dog
w/The Head and the Heart & Buried Beds
The Music Farm (Charleston, SC)
February 3, 2011
The surest sign of a good live band is the ability to win over the fringe--those in attendance who'd consider their fandom casual or mild. Such was how I classified my appreciation of Philly rockers Dr. Dog. Prior to Thursday night, I could summarize my knowledge of the band thusly:
Of these three, it's the last bullet was most intriguing to me. If my favorite band says "open for us," there's a reasonable shot that I'll approve, too. After all, Wilco's recent openers (and by recent, I mean in the past few years) other than Dr. Dog have included Bon Iver, the Fleet Foxes, and Grizzly Bear--not a bad list.
Now by all accounts Dr. Dog is a laudable live act--I've even heard the old "I don't like their records but I like them live" descriptor. That usually sounds an alarm to me, because more often than not, it's used to describe jam bands. Nothing wrong with a jam band (I guess)--but I'm too much of a studio album fanatic to let live prowess alone validate a band. As I've written before, I'd much sooner champion artists who deliver on record but not live.
It was chilly and rainy in Charleston on Thursday, February 3. My buddy and I grabbed a bite near the venue before the show, and at one point the band walked right past us. My friend said "Holy crap, that was Dr. Dog." Had he not said that, I wouldn't have known it was them--just another illustration of the level of fandom I possess. Anyway, we headed over to the venue just as the doors opened, grabbed a beer and a t-shirt, and took a spot about twenty feet from the stage.
It turned out there were two opening acts: up first, we had Philly indie-rockers Buried Beds, a six-deep collective with a penchant for snappy pop hooks and saccharine harmonies. The were part Shins, part New Pornographers--the latter due in no small part to their dynamic female vocalist/keyboardist/guitarist/mandolinist. Her voice achieved what so many cutesy indie girls seem to intentionally eschew, that being a refined bravado that kept up with--if not challenged--the boys (a la Neko's role in the New Pornos.)
Up next was The Head and the Heart, a poorly-named sextet from Seattle. Their self titled debut has created some blogosphere buzz since it's summer '10 release. It's actually not a bad disc, and it displays a lot of maturity for an ostensibly young band. Their songwriting is both ambitious and immediately digestible, a common ground that's difficult to achieve. They do an excellent job of recreating their punched-up indie folk in a live atmosphere, although at times they're a bit overly stoic and self-serious for a bunch of unkempt 20-somethings. Plus the girl's voice drives me up the wall--she has that 'indier-than-thou' timbre, like whatshername from
Pompamoose
. Thankfully she mostly provides harmonies (which, to be fair, she does very well.)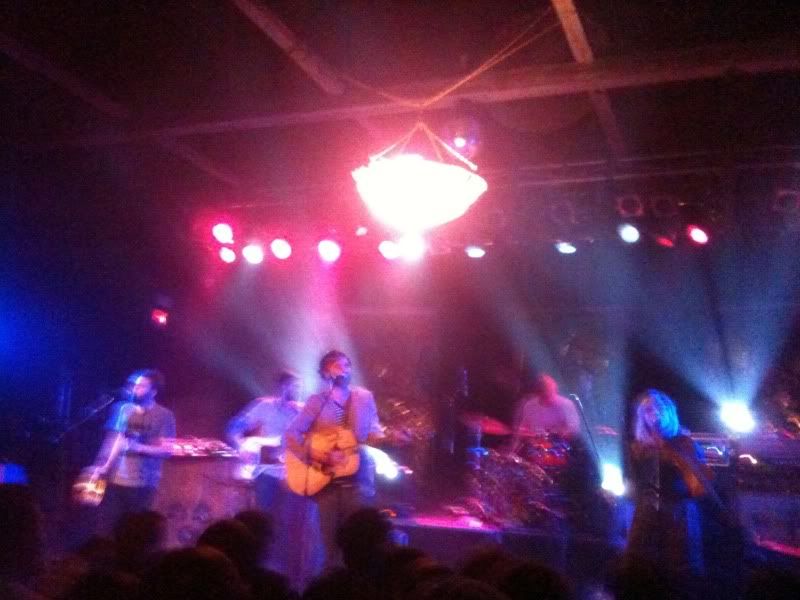 Above: The Head and the Heart.
On came Dr. Dog, looking like rock stars through and through. Sporting garish shades and/or trademark ski-caps, their look was intentionally over the top (not that they didn't seem to enjoy it.) Only bassist/co-lead vocalist Toby Leaman seemed dialed down, looking more like a line-cook who just knocked off work. His ragged-roar vocal style (as well as unassuming dress) ably complements his co-pilot, Scott McMicken. McMicken, visually a mousy hybrid of Thom Yorke and Rick Moranis, spent the night wailing on his big-bellied semi-hollowbody electric while belting out his half of the set. He possesses a tremendous classic rock voice, high and grainy, almost like he one day inhaled the slightest amount of helium and the effects never wore off. Big and bearded, rhythm guitarist/backing vocalist Frank McElroy tied the front line together, providing flawless harmonies and guitar work that helped replicate the band's often dense studio arrangements.
The setlist was heavy on material drawn from their two most recent LPs (thankfully, the two I know.) The set kicked off with "Stranger", opening track from last year's
Shame, Shame
. Other album tracks played were "Shadow People", "I Only Wear Blue", "Mirror Mirror", and "Shame, Shame". There may have been a few more I can't recall at the moment, but I can confirm that they
didn't
play
HSW's #17 track of 2010, "Where'd All The Time Go".
It's like they don't even read this blog or something.
There were
Fate
tracks a-plenty, including "The Breeze", "The Old Days" (I'll award it song of the night honors,) "Army of Ancients", "The Rabbit, The Bat, and the Reindeer" and "The Ark". Again, there were probably more, but these are the tracks I remember.
Perhaps one of the most surprising take-aways from the show was the crowd. First of all, I had no idea the band had such a fervent following. The house was packed; the crowd sang along--
loud--
to every tune. I even met someone who said Dr. Dog was their favorite band. I sort figured they were the kind of band who a lot of people liked, but weren't really anyone's favorite. Boy was I wrong.
Maybe it was the weather, but the audience was also a bit schizophrenic. Two guys got in a fight, and then appeared to be dancing in the same group only a few songs later. One of the guys--a strung-out teenager--wandered up onstage at one point, and was followed by nine or ten others before the security guard realized it, and shooed them back into the audience. At one point, a girl tossed a glowstick on stage. Leaman snapped it, threw it back to her, and the girl twirled it above her head, spraying all the luminescent goo everywhere (just missed my shoes by a few inches.) It was just as oddball an audience as you'd expect from a band like Dr. Dog, who seem to put a premium on getting loose and having a blast--which they did this night, until almost 1 AM.
I brought up jam bands earlier, and it strikes me that while they certainly
aren't
a jam band, I noticed some "crunchier" types at the show. They obviously draw some of that crowd, and I guess rightfully so. I think Dr. Dog does have that jam band mentality--a little weirder and freespirited than the average indie rock band--but their sound is much too rooted in classic rock and modern Americana to leave any room for ten minute solos and other such tie-dyed tactics. Their sound owes a lot more to The Band than it does the Dead.
In conclusion, Dr. Dog has a warm gravity about them that's drawn me in from the fringe where I lingered only last week--you can now call me a card-carrying supporter. I wager you'd be hard-pressed to find a fan of any kind of pop or rock music who couldn't enjoy themselves at a show like this. But there's more to their music than major keys and pleasing harmonies--they're talented musicians and songwriters, and boast one of the better dual-vocalist attacks in music today.
(note: Can't seem to find a setlist online. Anyone?)
Other Music Farm reviews:
The Hold Steady
Modest Mouse
Andrew Bird