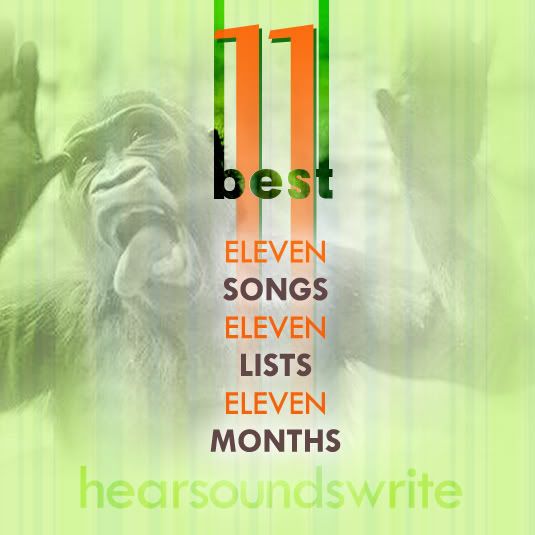 After last month's theme related to the month itself
, I thought it'd be a good idea to try for that every time. Unfortunately, March proved difficult. 11 Best songs about potatoes? 11 Best songs with the word "Green" in the title? I was spreading myself a bit thin, so I decided the hell with it and just picked a topic. So without further ado...
The build: It's one of the most identifiable and, if used correctly, fail-safe tactics in songcraft. A song with a good build can snatch you by the scruff and take you along with it. In a bad mood? A good build can lift you out of the muck. Laboring through the third mile of a 5K? A build can bump your pace or spur you to the finish line.
Musically speaking, the term most closely related to what I'm talking about iis "crescendo"--which means "to get gradually louder." This isn't an uncommon term, of course, and any Michael Jackson fan knows it from "Smooth Criminal." "Canon" is another relevant term--although this refers specifically to repetition of a particular melody, and usually the repetition overlaps with the melody that precedes it (think "Row, Row, Row Your Boat" and, of course, Pachabel's "Canon in D".)
I find that the subtler the build, the more rewarding the effect. I'll underscore this ad nauseam when we get to the list. When compiling my pool of contenders, the list of worthy tracks totaled just south of 50, believe it or not. I've whittled it down to the strongest 11, but let's talk about some of the honorable mentions. First, those who have a track that appear on the final list:
The most represented artist in my list was, surprise, Wilco. Any of the seven Wilco songs I listed could have found their way on the list. This is why I limit one entry per artist. Tweedy and crew--especially Jay Bennett--are/were masters of subtlety and arrangement (a trait that matured with the band). Through its build, "Misunderstood" transitions from self-deprecating sarcasm to unironic rage. It was the hardest to leave off, and as I write this I'm fighting not to switch it out with the song that I did include. Other notables Wilco builds include "Hotel Arizona", "Via Chicago", "I am trying to break your heart", and "Handshake Drugs".
Radiohead always has something to offer (they've appeared on both 11 Best lists so far.) Subtlety has been their modus operandi for the past decade or more, so it's no surprise that you'll find plenty of slow-blooming crescendos in their catalog: "Sit Down/Stand Up" was also in consideration last month, and I was even closer to using it this time. Everyone knows "Fake Plastic Trees" and "Exit Music (For a Film)", but don't overlook the song that Thom Yorke considers to be the band's best: "Pyramid Song" from
Amnesiac
.
The Felice Brothers are no frills folkies, but they still use the songbuilding techniques at their disposal. "Goddamn You, Jim", a dirge from their self-titled album, is barely audible for most of its three and a half minutes. But, like a gathering of thunderheads, it expands into an ominous coda.
The Decemberists' "I Was Meant for the Stage" is, lyrically, about what you'd expect from a guy like Colin Meloy, who specializes in storysong melodrama. The build here is standard--layering a few instruments with each verse until it's an all-out Salvation Army symphony.
A few artists made multiple appearances in my initial list without finding a spot in the 11 Best. The Drive-By Truckers ("I Know Your Daddy Hates Me", "The Three Great Alabama Icons"); Pearl Jam ("Elderly Woman...", "Rearviewmirror"); and Whiskeytown ("Lo-Fi Tennessee Mountain Angel", "Pawnshop Ain't No Place For a Wedding Ring", "Inn Town", "Easy Hearts").
A few other honorable mentions:
Andrew Bird - "Scythian Empires"
Avett Brothers - "Laundry Room"
Bon Iver - "The Wolves (Act I and II)"
Girls - "Hellhole Ratrace"
Iron & Wine - "The Trapeze Swinger"
M. Ward - "Requiem"
The Pogues - "And the Band Played Waltzing Matilda"
Sigur Ros - "Untitled 1"
Yo La Tengo - "More Stars Than There Are In Heaven"
There were more, but I'll cut it off there in the interest of keeping it manageable. I don't want to overwhelm this post with links, so you're on your own for checking those songs out.
Here's a link to Youtube though.
The 11 will roll out next week...