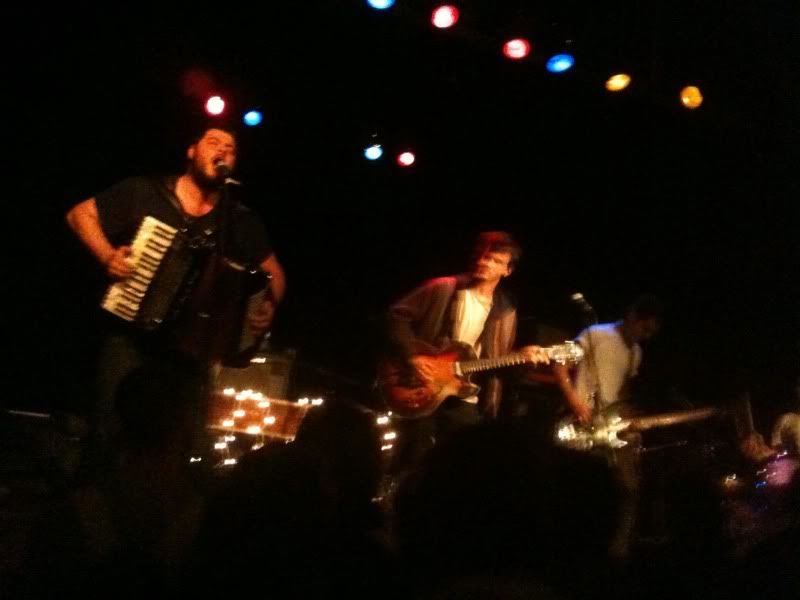 It was kind of a blow to the looming prospects of
MAYhem
last week when TV On the Radio selfishly decided to schedule their album for an April release. But thankfully, their spot has been occupied by a new contender with the thirst for glory. Although they're not new, per se. Early reports had the Felice Brothers releasing their new LP in March. But today, the band's new label
Fat Possum Records announced the bands record will be released on May 10.
The bad news? More time to wait for new Felice Brothers.

The good news? MAYhem.
I like that our contenders come from different corners of the musical world: The Felices represent Americana, the Fleet Foxes carry the indie-folk banner, Radiohead is motherfucking Radiohead, and so on. Still waiting for a sixth entrant--who wants in this rodeo? Looking at you My Morning Jacket. #wishfulthinking
Anyway, the label's description of Celebration, Florida is intriguing and, I'll admit, a tad worrisome:
"...an exhilarating amalgamation of frightening horn sections, unexpected 808s, ambient synth lines, schoolyard taunts, booming, primitive drum beats, heavy bass lines, piano, violin, accordion, ringing guitars, rave beats, and sinister acid jazz that captivates and mystifies."
I'm an outspoken fan in a band progressing, but the above seems like a far reach for a band that's scarcely recorded a sound that couldn't have been recorded in 1950. I will say that some of the new stuff they played
when I saw them back in November--some of it digitally affected--sounded promising
.
Whatever it sounds like, my expectations are high. I was crazy about their last LP,
Yonder Is the Clock
, so hopefully the new one will build on that momentum. Here's the tracklist:
Fire at the Pageant




Container Ship




Honda Civic




Oliver Stone




Ponzi




Back in the Dancehalls




Dallas




Cus's Catskill Gym




Refrain




Best I Ever Had




River Jordan
(From the November show, I specifically remember "Fire at the Pageant", "Ponzi", and "Back in the Dancehalls", but I'm sure they played a few others.)