No Weekly Whathaveyou this week, as it's already going to be a post-heavy month. It will be somewhat common for us to take a week off from WWHY every now and then. Do you really need 52 of them?
Okkervil River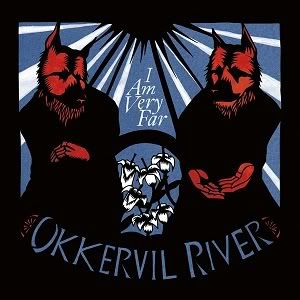 Album:
I Am Very Far
Release Date:
May 10
About the Band:
Chamber pop collective from Austin with a dramatic flare.
Last Record:
Their last LP proper was
The Stand Ins
, released in 2008 up as a supplementary follow-up to 2007's excellent
The Stage Names
. The former had its moments, but the latter is the one I keep going back to.
Reason for Excitement:
Aside from past album success, what we've heard from the new one thus far has been promising. Remember when
I posted that video of the band playing it on Fallon a few months ago?
Reason for Concern
: Again, I wasn't crazy about their last album. But as I understand it, those were leftovers from the
Stage Names
sessions, originally intended to comprise a double album. So in some ways, this new LP will be the first fresh helping since 2007.
Early indications:
Follow that link above and see for yourself. Outlook is good, in my opinion.
Prediction:
Middle of the pack. I imagine I'll enjoy the album, but I'm not so biased in their favor as I am for a few other acts on the list. Although, recalling the Band of Horses debacle from last year, that might be a good thing...
Up next, some brothers (some with different mothers) from the Empire State...