The Felice Brothers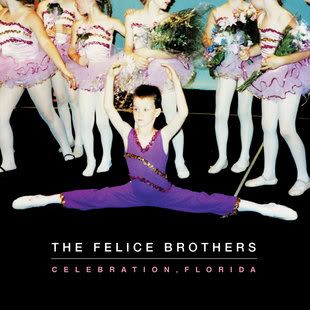 They've pretty much got "best album art" in the bank...
Album:
Celebration, Florida
Release Date:
May 10
About the Band:
Roving roots rockers from New York State; a blend of sloppy charm and Catskill rags.
Last Record:
2009's
Yonder is the Clock
was our runner up for album of the year. It marked their most cohesive effort to date, displaying their strengths and phasing out their weaknesses.
Reason for Excitement:
The last Felice Brothers show I caught
wasn't exactly one for the ages,
but we did hear a few promising new tracks that are set to appear on
Celebration, Florida
.
Reason for Concern
: "Ponzi", the first single from the new album, is different. Not bad, mind you--in fact I quite liked it. But drum machines, MGMT synths and vocal delay aren't exactly defining traits of the Felice Brothers. I love it when a band tries something new, but there needs to be a logical bridge from their known approach (see: Iron and Wine). It's certainly possible that the Felice Brothers are flying too close to the sun. It's inevitable that they'll confuse some of their core audience, but will they gain a larger following in the process? Is digifolk the new frontier?
Early indications:
"Ponzi" is all we've heard so far. Color me intrigued but not yet convinced.
Prediction:
I think they'll finish in the front or the back. They're an act I like enough to give them more credit if they pull this off. But if it doesn't work, it doesn't work.
Up next, a gang of Philly hipsters get the help of one Bright Eye...