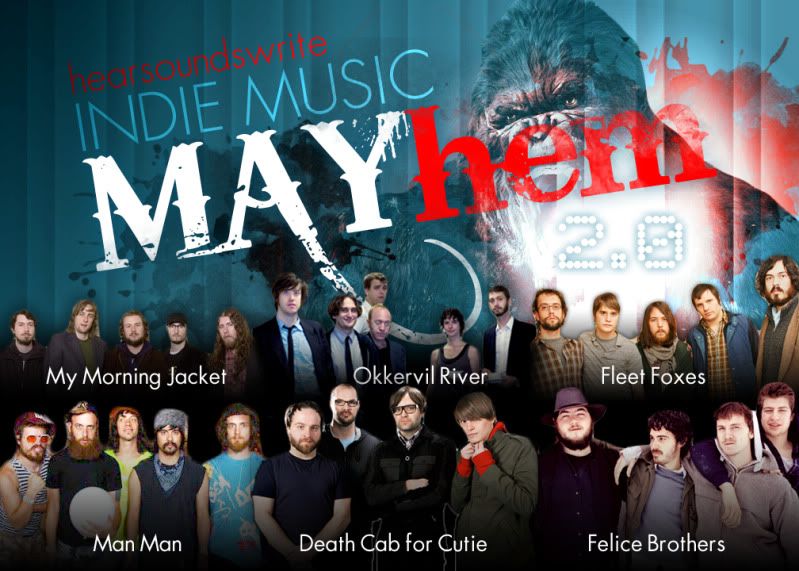 It has arrived. The second installment of our two month-spanning, completely unobjective contest. It pits May releases against one another in hopes of taking home the gold. And because it's my blog, I'm the judge, jury, and executioner motharfuxors.
Last year,
the title went to Broken Social Scene,
whose
Forgiveness Rock Record
topped the likes of The New Pornographers, Band of Horses, and the Hold Steady to take home the prize. Then I undermined myself by announcing that
Phosphorescent's Here's to Taking It Easy was better than all of 'em.
Then the fans undermined my undermining by
overwhelmingly choosing The Black Keys' Brothers as May's best.
You can brush up on last year's MAYhem over at
the Deeper In page.
A year has passed, and now it's time for version 2.0. Over the next days and weeks, we'll get to know the contenders. Then in May, the MAYhem will begin, in the form of individual album reviews. Towards the end of May, I'll rank the albums and announce a winner. I should mention that two of the releases don't drop til May 31, so there's some remote chance I won't hear those til late in the month. But I'll go to great lengths to hear the albums plenty enough in advance to provide timely reviews and get the feature in under the wire. I'll also throw up a poll shortly, so you can all prove me wrong again, a-holes.
First previews to come shortly. Let the MAYhem begin!