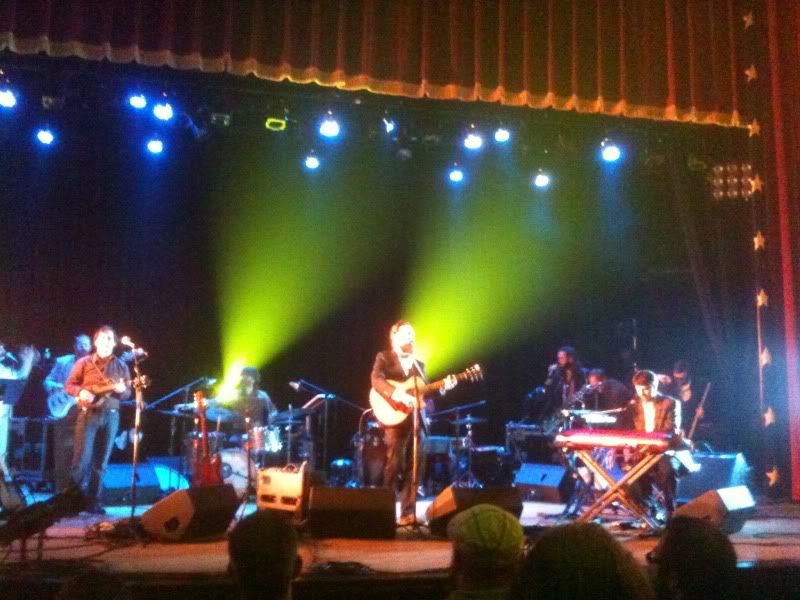 Iron and Wine
w/The Low Anthem
Trustees Theater (Savannah, GA)
April 23, 2011
In 2005, I saw Iron and Wine at the Music Farm here in Charleston. Sam Beam and crew were touring behind the Woman King EP, released earlier that year. Let's paint a picture of the band, circa 2005: Beam's basement project had blossomed into a six person ensemble, largely a pack of bearded minstrels who looked like luthiers. Musically, this was an era for the group when percussion on a track was a bold move. Sam was a reserved performer, saying little, gently chiding the audience for its chattiness, humoring a few clowns who felt the need to remind Sam via midsong holler that they'd gone to grade school with him up the highway in Chapin. The music was a recreation of what we'd heard on record thus far: whispered vocals over fingerpicked acoustic, brushed drums, mandolin clucks, and Sarah Beam's delicate harmonies. It was a treat to see the band, but the noisy barroom crowd swallowed up much of the sound.
In the six years since that night, it's been steady and thorough evolution for Iron and Wine. Their third LP, 2007's
The Shepherd's Dog
, introduced lush arrangements and experimental turns that made it abundantly clear the days of minimalistic basement folk were gone. In 2009, the band released
Around the Well
, a dual-disc collection that nicely charts the band's creative progression from one-man folk project to a full scale progressive Americana ensemble. This January, the band released its fourth LP proper,
Kiss Each Other Clean
. It stays the course of expansion, most notably in Beam's vocal approach: he shelves his
pianissimo
delivery for a rich tenor. The album is one of my favorites this year--and was more than enough incentive to check out his performance in Savannah last Saturday. I was eager to hear how Iron and Wine's 2011 vintage compared with 2005.
Upping the ante was the scheduled opening act: The Low Anthem, the Rhode Island folkees
I finally discovered last year.
Oh My God Charlie Darwin
is a masterwork, and although their 2011 release
Smart Flesh
was only a mild satisfaction, they're an act I hold in high regard and was overjoyed to be catching.
My girlfriend, her sister and I arrived in Savannah early in the afternoon, affording us the opportunity to enjoy the city a bit. As a Charlestonian, I'm comfortable in walkable, tourist-heavy towns where Southern charm is liberally draped like Spanish moss on live oak branches. After a nice dinner, we found ourselves at the front entrance of the Johnny Mercer Theater--which was locked and unlit. I don't know how I managed this one, but we were at the wrong venue. Our smartphones confirmed the event was in fact at the Trustees Theater, a smaller venue about 10 blocks northwest of the Mercer.
A brisk walk later, we found ourselves inside the Trustees. Unfortunately, the Low Anthem was a few songs in when we found our fourth-row seats, but by my estimation we still caught 80% of the set. The quartet is helmed by Ben Knox Miller, who led the group in a handful of tunes from
Smart Flesh
, including the bounding rocker "Boeing 737". The best moment was the closer, "This God Damn House" from 2007's
What the Crow Brings
. Before the song, Miller instructed us to wait for his cue, then call the person in the next seat, turn the phones on speaker and hold them face to face. Because of the theater's audio configuration, it created a symphony of cricket-like feedback that complemented the ballad's final strains. During the set, I noticed how quiet the audience was, which allowed to us to appreciate the band's antique ballads, like "Matter of Time" and "Burn". I wonder if the band is always so lucky--I'd imagine their set would suffer for restless crowds.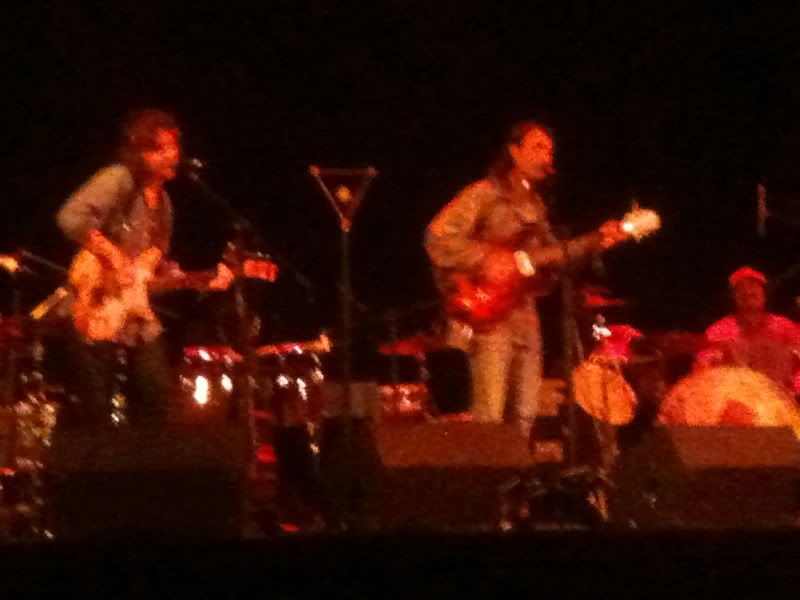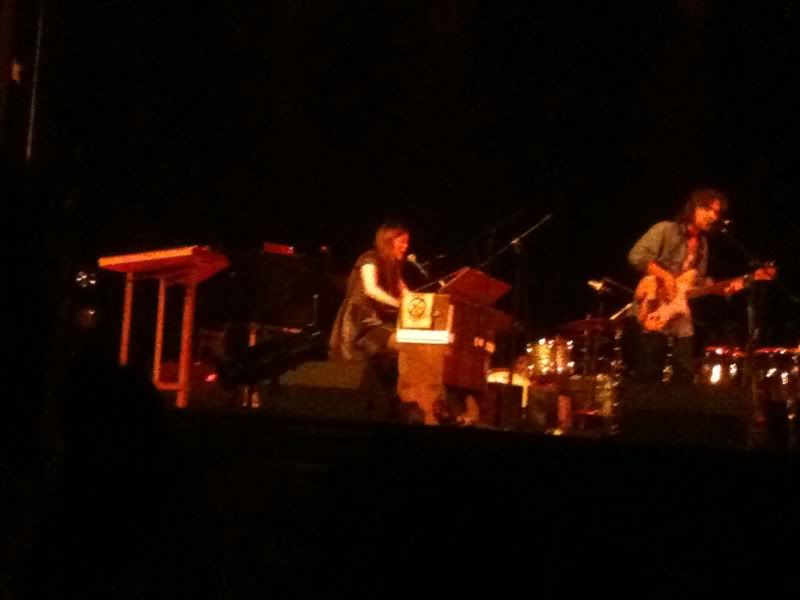 When the headliners took the stage, I couldn't help but compare
this
Sam Beam to the man I watched six years ago. Everything was different--except his trademark beard, of course. But before, he wore jeans and a loose button-down. Here, he sported a snappy suit and his hair was brushed back in a wavy bouffant, like some Appalachian playboy. It was also evident from the onset that this was a far more personable, confident Sam Beam. Everything about him was charismatic. His stage presence was downright groovy. He bantered--a lot. Every few songs he'd take a break to gab with the audience. He responded to every comment, holler and yelp--I had to restrain myself from shouting that I'd been in his hometown the previous weekend. I don't doubt that he would have responded. His demeanor was mostly humble and playful, but a moment of hilarity ensued when a girl howled, "You're hot!" to which he muttered, "Well, no shit."
Oh yeah, and he played music. The set was comprised of 19 songs from each of the band's four albums and two EPs, drawing most heavily from
Kiss Each Other Clean
and
Our Endless Numbered Days
. Most of the older numbers were put through the ringer, either tastefully expanded or given a complete overhaul. Song of the night honors go to "Freedom Hangs Like Heaven", the galloping
Woman King
EP standout, wherein three tightly-wound verses of just Sam and Sarah exploded into a full-band outro. The new material was excellent, especially "Walking Far From Home". The audience remained seated most of the gig (Beam ribbed us for staying seated at one point, mimicking an awkward shift-in-your-seat dance) but main set closer "Tree By the River" was what got everyone up and dancing--in its short existence, the song's already a bona fide crowdpleaser. Unfortunately we didn't get "Glad Man Singing" or "Rabbit Will Run", my two favorites from the new album.
As for the old-school stuff, "Lion's Mane" featured little more adornment than faint horn textures, which was well-suited for such an understated tune. "Cinder and Smoke", "Free Until They Cut Me Down", and "Fever Dream" were done justice, not unrecognizable from their
Our Endless Numbered Days
form. "Sodom South Georgia" was generously restructured, and could have benefited from a more faithful interpretation. I'll admit to a bit of bias here, since I think the original is one of those rare songs that is completely without flaw. I was slightly caught off guard by the lack of
Shepherd's Dog
material. We heard only "House By the Sea" in the main set, and then the band encored with "Wolves (Song of the Shepherd's Dog)". The latter featured an extended ambient midsection that might have taken a few minutes to win over the crowd, but had us all spellbound by the time the band kicked back in. When the final notes faded, the place was electric. Anyone who walked in harboring even a vague dissatisfaction with the band's recent direction most assuredly left with a new appreciation of Iron and Wine.
It's interesting to observe the effects of creative freedom has on an artist's progression, for better or for worse. Sam Beam's Iron and Wine project was borne out of a limited environment, and the initial product--its aesthetic--was indicative of that. But as his limitations dissolved, the results expanded. Today's Iron and Wine is unrecognizable in so many ways: the band, the music, the live show, and the list goes on. Not that it matters; Iron and Wine was never the name of a
band
in the first place. It was a project, an endeavor, and every phase of that endeavor is crucial to Saturday night's experience. Without the lo-fi whisper-folk of
Creek Drank the Cradle
, we don't get the lush, technicolor sounds of
Kiss Each Other Clean
. As I've said before, any time a band takes on a larger audience, they are tasked with expanding, refining, and even reapproaching their sound. Perhaps no band embodies this challenge more than Iron and Wine. How does an act that started out recording minimalist folk in a basement translate to theaters and festival stages? Over the course of Saturday night's staggering set, we got the answer.
As usual, setlist and crappy iPhone photography:
Me and Lazarus
God Made the Automobile
Freedom Hangs Like Heaven
Summer in Savannah
The Sea & the Rhythm
Sunset Soon Forgotten
Walking Far From Home
Cinder and Smoke
Lion's Mane
Big Burned Hand
Half Moon
Swans and the Swimming
Free Until They Cut Me Down
Sodom, South Georgia
House by the Sea
Woman King
Fever Dream
Tree by the River
E:
Wolves (Song of the Shepherd's Dog)