Sorry for the lack of posting. Will have reviews up over the next few weeks!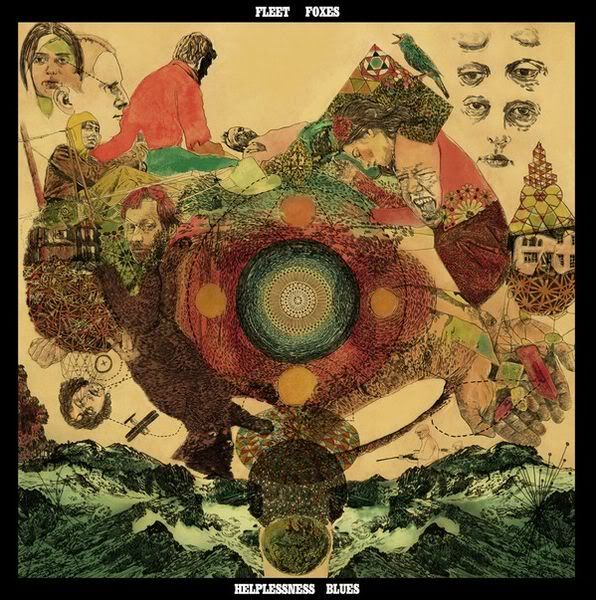 The Fleet Foxes
Helplessness Blues
The Fleet Foxes 2008 self-titled release topped scores of "Best Of" lists that year
(guilty)
and since then, they've teased the bejesus out of us. After a year or so of touring, the band laid relatively low but didn't hesitate to post pictures and updates from studio sessions dating back to last summer. Robin Pecknold played scattered solo dates, his setlists populated by stunning new songs as opposed to relying on the Foxes catalog. Finally, back in January, we all began salivating into our beards when the band formally announced the May release of
Helplessness Blues
.
So the new album had to be a sure thing, right? Three years in the making, coming off one of the most celebrated debuts in the past decade--all the hype is justified, that's for sure. But I couldn't help but look at the Arcade Fire, who released a similarly triumphant debut and waited three years to release a follow-up in
Neon Bible
. No matter your opinion on the album, it wasn't unanimously lauded like
Funeral
. And by now it has the misfortune of existing in the midst of
Funeral
and
The Suburbs
.
I sported a huge smile on my face about forty seconds into "Montezuma", just as the band unfurls that first sheet of beaming harmonies. From the word "go",
Helplessness Blues
dashes concerns and fulfills the years of aching anticipation. Robin Pecknold is developing (or, perhaps,
has
developed) into one of the most versatile singers on the scene, as evidenced on--well, take your pick. The understated Nick Drake-whisper of "Blue Spotted Tail"? The warm, angular delivery on "Bedouin Dress"? All of the above and more.
The band sounds clean and strong. No note seems out of place, nor formulaic. "Battery Kinzie" is a bright, pounding romp, like the Who vis-a-vis CSNY. There are inevitable parallels one can draw between the band's two LPs: both feature a mix of rousing, full-band tracks with a few sparse acoustic numbers. There are multi-part songs, there's an instrumental. Still,
Helplessness Blues
is anything but a rehash of its predecessor. There's an overriding theme of introspection here, perhaps Pecknold reflecting on his new-found success--there are plenty of "Ifs" to found on
Helplessness Blues
.
This theme is most palpable on the title track, where Pecknold questions his role as a "snowflake distinct among snowflakes", suggesting he'd rather be "a cog in some great machinery." The song's coda is particularly resonant with me. See, I'm locked into the digital world. It seems to be this generation's path to success. But I wonder about the merits of manual outdoor labor, adopting farm life, working hard for myself. "If I had an orchard, I'd work til I'm sore." I don't know the first thing about growing, but to see the literal fruits of your labor from start to finish, that fulfill your base needs of survival, seems unequivocally fulfilling. Plus, I can't imagine a sweeter-tasting beer than one at the end of a day of field work. But I digress.
My lone beef with the album (aside from the brow-raising resemblance of "Lorelai" to Dylan's "4th Time Around") lies in the execution of the album's could-have-been best moment. Nevermind the album--it could have been one of the epicss of our era. "The Shrine/An Argument" begins witha frenetically picked acoustic and vocals. Twice, Pecknold roars in a way we've yet to hear: "Sunlight over me no matter what I do"--perhaps a comment on obsequious fans/critics. The ghostly intro soon gives way to the song's B-section, a stretch so strong that it could (and perhaps should) have stood as its own full track. Its churning sincerity reminds me of "Your Protector" from the debut, and its hard not recoil at the dark image of "In the ocean washing off my name from your throat." Unfortunately, the section only lasts for a measly minute and a half.
The song's final four minutes are slow, dark and abstract, featuring some rather mechanical harmonies that sound more like chipmunks than Foxes. But that's not the issue. At about the 6:25 mark, a completely unnecessary free-jazz section enters for a full minute. I like weird shit (re: Tom Waits appreciation.) I like free-jazz. But in this instance, it comes off as arbitrary and bitter to the taste, and the result is a blemish on the album.
But a sour minute only takes down the overall quality a tick or two; make no mistake, this is one bruiser of an LP. Not only did the Fleet Foxes stave off the sophomore blues, they stepped over it without a flinch. It's an exciting time to be a fan:
Helplessness Blues
is only a week old, and I'm already excited for the next LP.
Pros:
The songs? The singer? The band? Take your pick.
Cons:
Near-perfection falls short in one puzzling, frustrating minute of "The Shrine/An Argument".