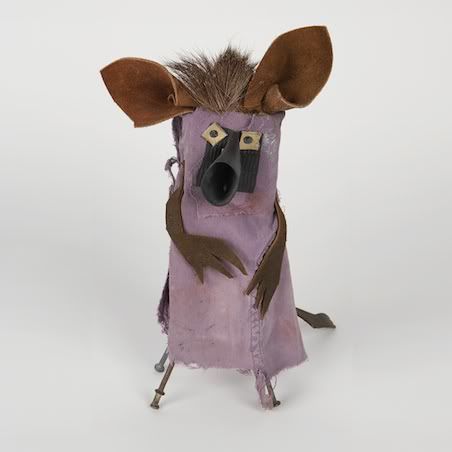 Man Man
Life Fantastic
I discovered Man Man in 2009 while browsing a vintage clothing store in Columbia. All the while I noticed a delightful record playing on the store PA. It was like a high-energy cartoon score featuring a briar-throated singer. Is this some lost Tom Waits record I missed along the way? I asked the girl behind the counter who it was, and she told me it was Man Man. I'd heard
of
the Philly-based hipster troupe, but my knowledge of their sound was virtually nonexistent.
But based on this serendipitous sampling, I picked up
Rabbit Habbits
and fast took a liking to it, for reasons including but not limited to its Waitsesque qualities. It's a fun record, clearly the fruit of a talented crop of loopy minstrels. But my attention soon wandered, and admittedly I hadn't paid the band much attention until they announced their new album back in March. But the May release date and the involvement of Mike Mogis boosted my anticipation--and he we are.
Lead single "Knuckle Down" was released around the time
Life Fantastic
was announced. In the album preview, I called it a "sinister...stomp that will get your juices flowing." Employing many of the idiosyncratic elements for which the band has become known, we hear marimba runs, choral shouts, and quirky lyricism ("We'll burst like birds full of aspirin").
If you're looking for an ass-shaking summer single, look no further "Piranhas Club". Sure, it's catchy as all get-out, but take notice of the slick arrangement. We hear steady instrumental countermelodies dancing among the vocals--a Mogis trademark that's tailor-made for a band with as much spastic energy as Man Man. Indeed, there's no shortage of bombast on
Life Fantastic
. "Dark Arts", for example, is a moshy throwdown, with a fiery
Lifted-
era Bright Eyes chorus and the top-shelf lyric, "These days I feel like a pariah, an albatross with my feathers on fire." It's followed by a positively addictive swath of loungy tropicalia in "Haute Tropique", which has all the markings of a
Franks Wild Years
relic. "Bangkok Necktie" bounds along with vaguely far-eastern melodies and a fist-pumping "oh-oh-oh-oh" chorus that, together, evoke the sort of Asian metropolis its namesake suggests.
But the album is hardly a free-for-all; you'll find no paucity of restraint and thoughtful moments. "Steak Knives" is a moonlit creeper with a magnetic bridge that glimmers with the aid of a female harmony. The title track is a groovy ode to maintaining in the face of gruesome tragedy. The album closes out with a snappy dedication to tar-pits, but the last two minutes of "La Brea" are comprised of a sighing instrumental coda, soft strings lacing behind delicate acoustic plucks and xylophone dings.
It was my hope that Mike Mogis would leave his mark on
Life Fantastic
, and this was unmistakably the case. His propensity for balancing dense arrangements and clear production naturally coalesced with Man Man's vivacity, and yielded one of the surprises of not only May, but 2011 in totality.