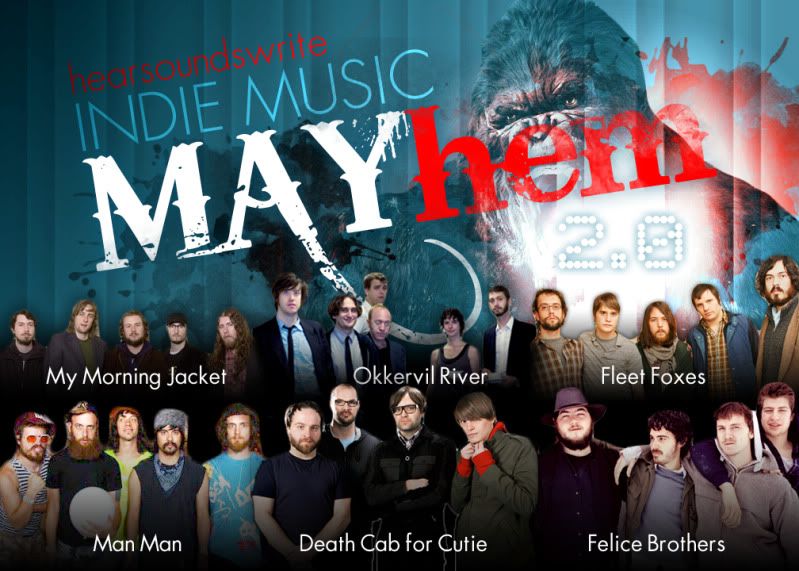 With
my results made public a few days ago
, it's now time to take a look at the public mandate. First, a note: a few weeks ago, Blogger freaked out and shut down for a few days. When the dust settled, I noticed that the internet had gobbled up about 16 votes. Damn! Try as I might, I couldn't retrieve the votes. So unfortunately, our count was diminished a bit.
But enough wallowing. On to the results:
9 (39%) - Fleet Foxes
0 (0%) - Man Man
1 (4%) - Okkervil River
7 (30%) - Felice Brothers
0 (0%) - Death Cab For Cutie
6 (26%) - My Morning Jacket
Robin and his Foxes take the poll. This actually marks the
third
time
they've taken an HSW poll (almost the
fourth.
) You guys sure do love your Fleet Foxes (and who can blame you?) The poll results vaguely synched up with mine, the largest disparity being Man Man. I'm sure they suffered for their relative lack of popularity, but I assure you
Life Fantastic
is a worthy disc!
By the way, this concludes Indie Music MAYhem 2.0. Thanks to everyone for reading, voting, and following along. Next month, look for us to pick back up with
Weekly Whathaveyou
, a new poll, a fully realized
11 Best
feature, and our fifth (!!!!) Midway Through the Year Awards.