As far as this blog goes, Ian Felice has had a pretty good run. In 2009, we ranked
Yonder Is the Clock
as
the year's second best album.
17 months later, he and his band
took top honors
in the second installment of Indie Music MAYhem, for their synth-affected folk rock effort
Celebration, Florida.
And now we bestow yet another honor on master Ian: his resemblance to future baseball phenom Bryce Harper. Who, you might ask? Bryce was the first overall pick in the 2010 MLB draft, and is already on the fast-track to the majors. The dude once went 6 for 6 with four homers, a double, and a triple in a junior college World Series game. "Junior college?" you ask. "If he was any good, he'd have been drafted out of high school." Don't worry, he was only killing time in junior college because he graduated high school early to pursue baseball. He was drafted #1 as a 17-year-old. Incidentally, his big brother Bryan plays for the defending
National Champion South Carolina Gamecocks
(but I digress...)
Obviously, Bryce is a tad bulkier than the spindly Ian Felice, who's more storklike than anything. But the thin eyes, flat nose, slit-sized mouth and pale complexion are enough to warrant this feature. Protein supplement companies looking for scammy banner-ad models for before and after pics: take note.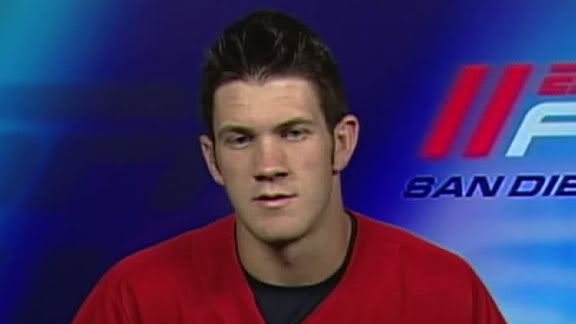 Also of note:
Bryce Harper now has a trash-stache
, which only strengthens the argument.